Here we are! NBA LIVE 19 is officially on the way and will be debuting a number of new features. To give you the inside scoop on these fresh features, we've put together a series of articles highlighting them, articles where I sit down with game developers to get their take on the latest NBA LIVE 19 developments, as well as the inspiration behind specific changes. You can also read about the changes made to The One, The League and The Streets, Gameplay.
In this article, we're focusing on the brand-new concept of being able to Build Your Squad. This gives you the ability to completely create your own squad, recruit NBA players and legends, and take on your friends and other competitors along the way to fight for global dominance. I caught up with Game Developer Ryan Santos to talk about the inspiration behind some of the developments in the game's newest mode.
Your Squad Against the World
"What we're doing in 19 is, allowing you to build your squad," said Santos. "Not only can you compete in The League and The Streets, but whether or not you're in the streets, you'll also be able to go around the world now as we extend the courts out to different global courts where you'll be able to recruit players that you play against and compete with, then form your squad as you go from game-to-game, court-to-court, and country-to-country."
A lot of what the team has tried to mimic is the style that many role-playing games have set forth in terms of creating an online party-style mode. This is a mode where, not only can you play against friends, but you can actively try to one-up and compete for bragging rights. While the majority of global courts are yet to be released, this seems to give a nostalgic feel similar to the classic EA Sports' NBA Street franchise.
"I worked on NBA Street back in the day, and I played all those games growing up so there's definitely an aspect of streetball that is just core to any basketball fan," Santos began. "It's where you grow up playing – in a driveway, on a streetball court, on a playground – and so, we started a few years ago, introducing these authentic venues and these authentic streetball courts or Pro-Am leagues into the game because we wanted to bring that core love for the game and experience for the game into NBA LIVE."
Do the Shammgod!
The amazing part – aside from being able to do streetball moves like the Shammgod dribble – is that you can do all this while competing for rank and prizes. A number of NBA LIVE 19's Live Events will be centered around this concept of building your squad, and you'll get to do so in the most interactive way possible, where you really may only have one or two chances to pick up a certain player and add him to your team.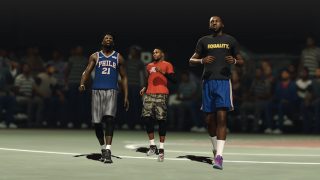 "Last year, we could just reward you player gear, cosmetics for your player," responded Santos. "What we're doing this year is really upping that rewards system to include other items that could be a player that you recruit if you play against them in this special challenge."
While Build Your Squad is the newest feature to hit NBA LIVE 19, it seems like it'll become an instant hit with a number of LIVE players. The staple that is pick-up basketball is something that runs so deep in the culture of hoops, at any level, that it's so important to have that reflected in a video game. Whether you squad up with your friends, or you look to take them on with a group of your hand-picked starting five, NBA LIVE 19 gives you the freedom to create your own legacy.
- Rahul Lal (Follow Rahul on Twitter @rlal95)
---
Stay in the conversation, like us on Facebook and Follow us on Twitter.