Here we are! NBA LIVE 19 is officially on the way and will be debuting a number of new features. To give you the inside scoop on these fresh features, we've put together a series of articles highlighting them, where I sit down with game developers to get their take on the latest NBA LIVE 19 developments, as well as the inspiration behind specific changes. You can also read about the changes made to The One, The League and The Streets, and an all-new feature called Build Your Squad.
In this article, we're going to focus on the gameplay innovations in NBA LIVE 19. Gameplay is where some of the biggest improvements have happened, giving the NBA LIVE franchise the most realistic version of the game that we've seen. To get the info on the gameplay changes, I interviewed NBA LIVE Creative Director Connor Dougan about some of the enhancements he's spent months ideating, including Real Player Motion, One-On-One, Interactive Environment, and Dynamic Gameplay.
RL: In regard to Real Player Motion, what do you hope to achieve by putting it into NBA LIVE 19? How can gamers see a difference between LIVE 18 and LIVE 19?
Connor Dougan (CD): Real Player Motion is going to give our players a much smoother and more responsive experience. Where it really shines is ball carrier movement in terms of being able to change direction, attack the basket, and how smooth and fluid everything looks – it's taken a big jump in quality.
The other advantage of Real Player Motion is that we have a lot of signature player movement. Guys like LeBron, Harden, Kyrie, and Curry will move like they do in real life. Faster acceleration, different nuances of how they dribble and how they move, and this is all controlled with the left stick.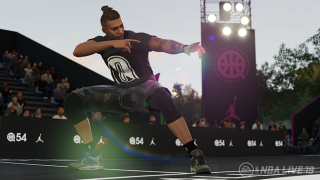 Our off-ball player movement has also been upgraded to Real Player Motion. Our player movement is much more responsive and smoother when controlling players in the halfcourt or in transition.
RL: Does Real Player Motion change the controls at all?
CD: We have a right-stick dribbling system, which allows players to pull of a variety of combo moves to attack the basket. Right-stick dribbling has been taken to the next level (we'll get to that later) but, with the advantages of real player motion, you can do a lot of different moves on just the left stick alone, which is cool. You don't need to be a master on the right stick, but there's a lot more players can do and it's a lot smoother and easier to pick up and play and it's a lot more responsive and authentic with signature player movement.
We've also overhauled our triple-threat control. All-new jabs steps, as well our pump fake system, all of that has been converted to Real Player Motion technology. In addition, we have brand-new player skeletons, player model improvements, and thousands of new animations. We've improved a lot of our animation pipelines to get rid of any sort of legacy "stiffness" that you may have seen in the past from NBA LIVE.
RL: I've heard a lot about improved one-on-one play, walk me through the changes.
CD: Last year, we introduced a game within a game, which allowed players to actually play on-ball defense and we also introduced, offensively, a series of counter moves and right-stick dribbling. This year, we've added a new series of all-new counter and combo moves for both in The League and The Streets.
If you're playing in The Streets, you can go around the defender's backs, pull off Shammgods between players legs, between your own legs, double-crosses and all-new combos, and players will see all that as we gear towards launch. The ball handler will have a lot more freedom and control than last year. At the same time, we still want these moves to be skill-based and give the defender the opportunity to stop them.
RL: Players could get away with sleeping on defense if they were off-the-ball, what changes were made to affect that in the one-on-one play?
CD: Last year, in The One mode, if you weren't guarding the ball handler, there wasn't a lot for you to do. So, we've expanded our one-on-one system to off-ball. Defensively, you can hold your left trigger to body players up away from the ball. Offensively, there's a series of counter moves like V-cuts, L-cuts, and different right stick moves to get you open. There's a whole new game within the game with off-ball play.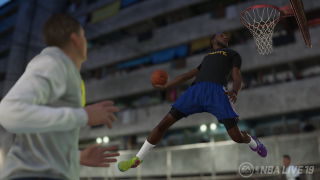 It's all skill-based timing windows so, if the offensive player pulls off a right stick move, you have a certain amount of time to react to that move. If you try to V-cut and the defense doesn't react in time, you're going to get an open look. There's a whole new game within the game that we're introducing. Really, our goal is to have skill-based one-on-one battles everywhere on the court.
RL: Players really seem to get the opportunity to feel as if they're on the court with some of these changes. What can you reveal about the game's new Interactive Environment?
CD: Our interactive environment feature breaks the wall between the players on the court and everything off of it. You'll see players save the ball into the bench and the crowd. You'll see players fall into the cameramen or crash into the stanchion.
You'll also see players jawing with the opposing team's bench or crowd members in Pro-Am. We're also introducing court-storming in our Pro-Am and Street games so, in big games, if you hit a big shot, don't be surprised if the crowd looks to celebrate with you!
It's not just collisions in the crowd but you'll see players talking trash to the crowd or the bench. We're trying to bring in the secondary characters and tie it all together and make it a living environment.
RL: Is there anything that makes specific players come to life more than they have in past versions?
CD: Absolutely – we've built an all-new Dynamic Gameplay A.I. system with the goal of making every game feel different. We wanted to introduce new AI behaviors that are true to life. So, when you play against star players who start to get hot and begin taking over a game, whether on offense or defense, you're going to start to feel that. They'll get the ball fed to them more and they'll be much more aggressive and depending on their personality types, they'll start talking trash. We've also introduced the concept of post whistle interactive emotes where you can taunt the opposition or celebrate with your teammates. Players will start to do that to you depending on what personality type they have.
You might see a guy like Draymond Green talking a lot more and even hard-fouling in certain cases. There is a lot of stuff with dynamic gameplay A.I. that really bring our players to life. This is done not only through how they play and how they attack you but also how they react emotionally.
If you go against someone like Draymond and you set him off, you're going to start to see him really come at you. He'll foul you, he'll get really physical whether it's on the ball, attacking the rim, or even off-ball just like we've seen in this year's playoffs. There's also new behaviors for guys who are a little flashier, whether that's Harden at The Drew League, or a guy like Jamal Crawford who's more of a one-on-one type player. There's a lot for our players to look forward to from an AI perspective, and there is more to come on this new system as we head towards launch.
- Rahul Lal (Follow Rahul on Twitter @rlal95)
---
Stay in the conversation, like us on Facebook and Follow us on Twitter.