Here we are! NBA LIVE 19 is officially on the way and will be debuting a number of new features. To give you the inside scoop on these fresh features, we've put together a series of articles highlighting them, articles where I sit down with game developers to get their take on the latest NBA LIVE 19 developments, as well as the inspiration behind specific changes. You can also read about the changes made to The One, The League and The Streets, Gameplay Innovations, and an all-new feature called Build Your Squad.
In this article, we're diving into the Icon System that NBA LIVE 19 will be instituting in the upcoming game! Last year, we all stressed out over which Playstyle to create our player in the mold of, to make sure we could become The One. This year, NBA LIVE 19 is creating an even more authentic, all-encompassing system to progress and enhance your players to make them both realistic and dominant. The Icon System was created with the intention of providing gamers with wider strategy options and providing more meaningful depth in the game's most marquee, and customizable, mode.
A Fully Customizable Experience
In NBA LIVE 19, you can change your game up to model some of the greatest who have ever touched the hardwood by incorporating the skills, abilities, and personalities of current and retired stars. If you want to lead your teammates like Magic Johnson, you can. Say you want to make the other team suffer after a turnover, get out on the break like Russell Westbrook. You can. Want to be a dominant paint presence? You can – just add in some elements of former Defensive Player of the Year Dikembe Mutombo's game to your own and become a menace down low. With the new Icon System, all of this possible.
General Player Progression Path
In NBA LIVE 19, you'll progress down Icon Paths that give you unique ability upgrades, skill boosts, and even exclusive gear associated with that Icon. Let's break down the progression path of developing your player:
Icon System
Trait System

New Traits (approximately ten with three tier levels each)
Better ways to level-up and upgrade Traits

Skill System

Better balance
Swappable Icon Skill

Signature Ability System

Three unique decision points for upgrading your Signature Ability
Swap your Signature Ability on-the-fly by switching your Icon
Icon System Terminology
In addition, each Icon contains the below, which add extra individuality.
Icon Ability: Exclusive gameplay boost that can only be experienced by equipping the Icon.

Example: Magic Johnson gives teammates a shooting boost when he passes to them.

Icon Skill: A particular Skill that is only available within a Playstyle by equipping the Icon.

Example: Russell Westbrook is the only Slasher with a Dunk skill path.

Icon Boosts: Rating boosts, which are specific to an Icon.

Example: Example: Dirk Nowitzki gets Post Move boosts, but other Stretch Fours do not.

Icon Unlocks: Animation, gear, and boosts that are only unlocked by playing with an Icon.
Icon Path: A Levelling path that includes all upgrades and unlockable items.
Icon Ability Upgrades: Found on the Icon Path, these are three decisions to signify how you want to upgrade your Icon Ability.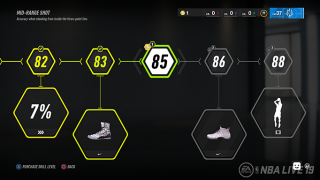 Traits and Skills
Traits and Skills have largely stayed the same. stemming from five Playstyle Skills, one Hero Skill, and three Traits, and here they are:
Two Primary Skills, which have the highest skill caps (95)
Three Secondary Skills, which have a lower skill cap (86)
One Hero Skill, which has an intermediate skill cap (88)
Three Trait Slots, which contain Traits that can be swapped out before and after games
What Does This All Mean?
So, let's put this into context and take an example from the game! If we take a look at the Slasher Playstyle, you'll notice two different Icon Abilities highlighted by the skillsets of popular players. For Slasher, you can choose between The Beast (Russell Westbrook), The Answer (Allen Iverson), and The Spark (who is . . . hey now, we're not giving you all the spoilers). You can begin by choosing your Icon Ability, then take a look at the Skill and the Boosts.
For Russell Westbrook, you'll get the Dunk Icon Skill, several boosts that affect both sides of the ball, and even physical boosts touching on speed and stamina. If you choose to play with Westbrook, you get the special ability that enhances your speed and finishing at the rim after a change of possession.
Now, let's run through the same progression for Allen Iverson! By playing with The Answer, you'll get the chance to see increases in your ability to beat defenders off the dribble, make tough-to-hit step backs, and also have a higher finishing rating. Where Westbrook had a Dunk Icon Skill, AI's skill stems around his steal ability. That leads to unique, personal skill boosts in other categories on both sides of the ball for his skill boosts.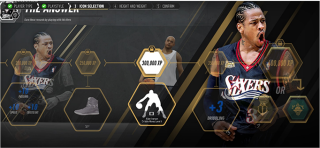 When we dive further into Iverson's skill progression Icon, the next step is looking at the Icon Paths. Essentially, you can now unlock unique content by playing with a specific Icon. Each Icon has their own path divided by bronze, silver, and gold tiers. Within each tier, you'll get five rewards created by the XP earned, which contain different prizes such as attribute boosts, accessories, moves, and the final reward will always be an upgrade to the Icon Ability itself.
Let's analyze another NBA legend like Dikembe – in the following screenshot, you're looking at the Silver Tier decision point where you get to choose between two options that affect the opponents shooting percentages when activated. In Option A, you'll be able to increase the radius for how close the player needs to be for this ability to take effect. In Option B, you'll be able to impact how much of a penalty the opponent will get to their shot percentage. Because of this level of customization, you'll be able to truly make a unique superstar that encompasses the best traits of several talented legends.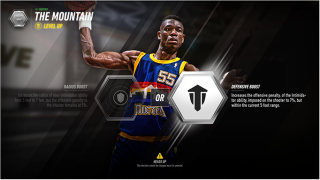 What Other Icons Are there?
Look, we're not ruining all the surprises! You'll have to wait for the full list. But a few of the Playstyles that will be available consist of Slasher, Wing Shooter, and Rim Protector. As you've already seen, there are three Slasher styles offered, then there will be three Wing Shooters, and two Rim Protectors. As we get closer to launch, we'll reveal more Icons and Playstyles, as well as the player archetypes that you can play with! No matter if you want to play as a Guard, Wing, or a Big, you'll have the chance to level and advance your players in the most unique ways possible. As you progress in the game, you can decide just how you want to have your player control the flow of the game.
Are you ready for NBA LIVE 19? We sure are. Check out the new trailer for NBA LIVE 19 and make sure to get ready for release!
- Rahul Lal (Follow Rahul on Twitter @rlal95)
---
Stay in the conversation, like us on Facebook and Follow us on Twitter.