Here we are! NBA LIVE 19 is officially on the way and will be debuting a number of new features. To give you the inside scoop on these fresh features, we've put together a series of articles highlighting them, articles where I sit down with game developers to get their take on the latest NBA LIVE 19 developments, as well as the inspiration behind specific changes. You can also read about the changes made to The League and The Streets, Gameplay, and an all-new feature called Build Your Squad.
In this article, we're going to explore NBA LIVE's marquee game mode THE ONE and the progression between NBA LIVE 18 and NBA LIVE 19. The game has grown in so many ways and in THE ONE, you get the chance to blossom your player into a legend. When you think about the career of an NBA player, there are so many different parts to it. Each player has their own unique story and THE ONE gives you a chance to make your own decisions as you progress through the life of a budding NBA star. This article takes a deep dive into THE ONE as you'll experience it in NBA LIVE 19.
Building a Truly Customizable Career Experience
"The ONE was our new way to play and really push the idea of seeing yourself in the game via your created character, while giving you the freedom to really explore how you want to progress your player, whether it was on the streets or in the league, playing online or offline, Co-op Live Events or multiplayer Live Run," said NBA LIVE Creative Director Ryan Santos when I asked about THE ONE in NBA LIVE 18. "I'm really happy with the way The ONE turned out and the response that we got from the community as well as some of our critics."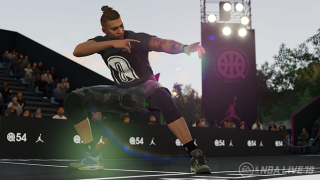 While the NBA LIVE franchise has had different career modes in the past, this was a whole different way to create an interactive experience for game players. Last year's version took players through the Pro-Am circuit as they looked to embark on an all-inclusive professional experience which doesn't only incorporate your on-the-court skills but your off-the-court respect, too.
"For NBA LIVE 19, we really want to build on that," Santos elaborated. "We set a foundation for how we want our modes to play and how are player experiences will play in our game versus other games out there and how we can be different. But I think for '19 it's really about taking that foundation and expanding on it."
From Scrub to THE ONE
One of the key factors that makes THE ONE special is the ability to customize your entire playing experience, whether it be through Playstyles or the threads you rock in the game. As it relates to Playstyles, the NBA has entered a stage where players are coming in with such diverse skill sets that they're able to essentially combine big man skills with guard abilities, or vice-versa. NBA LIVE 19 looks to tackle this by creating a more extensive set of player progression abilities.
"This year, we're adding this idea of these new ICON Abilities that you can unlock," said Santos. "For every Playstyle in LIVE 18, we had these signature abilities. This year, we're introducing an all-new Icon Abilities to complement each Playstyle. These Icon Abilities will be inspired by superstars, whether it be legends or current day players. These are going to be abilities that you can go and modify as you progress down your path. Think of this as another ability path that has customization built into it with key decisions that allow you to make that ability your own."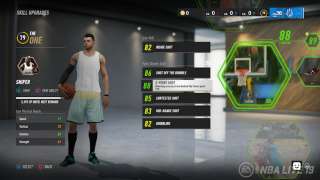 With this feature, you'll have the ability to choose the same Playstyle as another player but modify the unique Icon Abilities of the player's tendencies and ratings to ensure they put their own unique spin on each and every game. While players may start off similarly, this development ensures that no two players develop the same.
"As an example, if I'm a rim protector, I'd have a new defensive ICON Ability that, along the way, I can choose whether or not it will impact the shot percentage of a bigger radius of players around me or significantly boost a defensive impact rating for my player. That customization is going to be a gamechanger and, on top of that, you'll be able to unlock multiple ICON Abilities for each Playstyle. And just like a Trait, I'll be able to swap that special ICON Ability before every game."
What Else You Got For Us?
That wasn't all that Santos looked to add in THE ONE, though. While he didn't want to reveal too much, he made sure to let us know that you'll have a new story and a new presentation of your player's journey to glory and incredible additions to both The League and The Streets. Oh, and don't sleep on winning different in-game prizes as you progress through the game!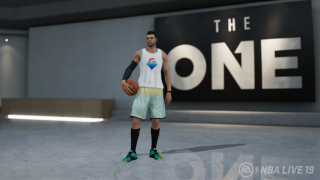 "Along with these Icons Ability Paths, you're going to unlock special rewards like signature throwback jerseys, shoes, and specific animations tied to that ability, making you look and play different during the game."
- Rahul Lal (Follow Rahul on Twitter @rlal95)
---
Stay in the conversation, like us on Facebook and Follow us on Twitter.