It's time for another edition of NBA LIVE Coach's Corner, and this time we had a chance to go in-depth with the Los Angeles Lakers, chatting with head coach Mike D'Antoni and assistant Kurt Rambis. The coaches were gracious enough to grant us a couple hours of their time, giving us some great insight into their plays and how they utilize the players on the floor to execute their offense.
First off, we asked Coach D'Antoni to talk with us about out his offense and give us an idea of how they're looking to execute. Coach showed us the Lakers' base set, a 4-Out alignment, with guards and forwards spacing the floor behind the three-point arc and a big man moving in the post. The keys to the 4-around 1 are a power forward who can step out and shoot the three, ball movement and creating space for a shot. All five players must be on the same page at all times to make sure the set runs smoothly.
The 4-around one offense spreads the floor and can be beneficial for penetrating guards. D'Antoni explained that the scheme is perfect for a crafty, veteran guard like Steve Nash, who can basically be a coach on the floor. Nash's success in this offense led to two MVP awards in Phoenix, and has granted him the freedom to freelance and have full play-call discretion on the fly. D'Antoni also stressed how great it was to have a point guard who can shoulder that level of responsibility and guide the team on every possession.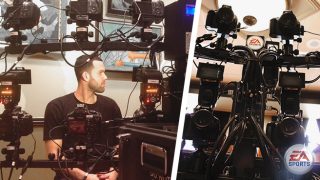 As an NBA LIVE player, this insight not only tells you what to watch out for when playing the Lakers, but to also pay special attention to Nash or any point guard in this scheme. The challenge for our development team is to accurately portray Nash's freestyle ability in the game. For instance, if he sees that you're denying the wing entry on the perimeter, he should send him through and look for early side screen and roll opportunities. It's all part of our commitment to not only make teams play more real life, but to also showcase the skills of the league's elite players.
In addition to talking to Coach D'Antoni, we also had a great conversation with Kurt Rambis about some Lakers' history and some of his Hall of Fame teammates. Rambis reminisced about his days on the "Showtime" Lakers with Magic Johnson and Kareem Abdul-Jabbar, as well as the intense rivalry with the Celtics. It was a real treat for NBA LIVE designer Scott O'Gallagher, who grew up a Lakers fan and has a great understanding of the rivalry.
Rambis also provided some really interesting insight into what made players like Magic and Kareem so great. While talent went a long way, both players had such a high basketball IQ that it made them nearly unstoppable. They could watch film of opposing teams and then know exactly what their opponents' weaknesses were and how best to attack them. While it's always helpful to be a gifted athlete, raw talent will only take you so far. And what separates the game's elite from the rest of the "really good" players is their intrinsic knowledge of the opposition and how to use that to their advantage.
Scott also asked Coach Rambis about a few of the big men he's helped coach, and the difference between guys like Shaq and Pau Gasol and how they were utilized in the triangle offense. Rambis pointed out that the Triangle was a perfect fit for any post player that can play with his back to the basket. Scott was fortunate enough to spend over an hour with the Lakers coaching staff; there's a lot we talked about with the Lakers coaching staff, but we will save that for a later date. Both D'Antoni and Rambis were kind enough to indulge us as we plumbed the depths of their basketball knowledge. They provided a lot of great feedback and intel that we hope to be able to incorporate into the future of NBA LIVE.
That's all we've got for today, looking forward to seeing you for the next edition of Coach's Corner!
READ PREVIOUS COACH'S CORNER CONTENT
Coach's Corner 2: Oklahoma City Thunder Face Scanning
Coach's Corner 1: Indiana Pacers Face Scanning