Find out which players are the best at the point guard position in NBA LIVE 16 Ultimate Team.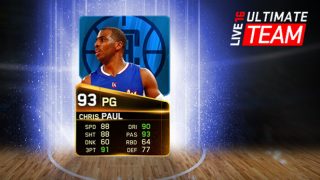 CHRIS PAUL (93 OVR)
LOS ANGELES CLIPPERS
6'0, 175 POUNDS
CP3 is known for his excellent ability to spread the ball around (93 PAS, 90 DRI). He is also a great scorer (91 3PT, 88 SHT) and is super athletic with 88 SPD.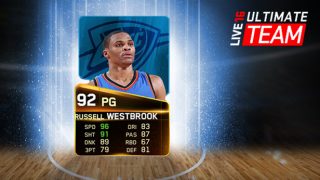 RUSSELL WESTBROOK (92 OVR)
OKLAHOMA CITY THUNDER
6'3, 195 POUNDS

NBA LIVE 16's cover boy is the fastest player in LUT with 96 SPD. He can score with the best of them, coming in with 91 SHT and 89 DNK. He's an excellent floor general with 87 PAS and 83 DRI ratings.
STEPH CURRY (92 OVR)
GOLDEN STATE WARRIORS
6'3, 185 POUNDS
The NBA's MVP is automatic from long range, with 96 3PT rating. He can connect on just about any shot, with 87 SHT. His handles are fantastic as well, coming in at 91 DRI.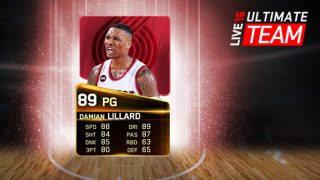 DAMIAN LILLARD (89 OVR)
PORTLAND TRAILBLAZERS
6'3, 195 POUNDS
Lillard is an athletic floor general, with 88 SPD, 89 DRI and 87 PAS. He knows how to create scoring opportunities and shoot the ball (84 SHT, 80 3PT, 85 DNK).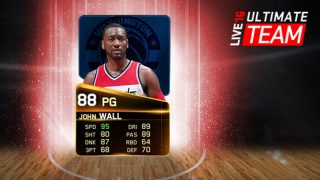 JOHN WALL (88 OVR)
WASHINGTON WIZARDS
6'4, 196 POUNDS
Like his sneaker, John Wall is crazy quick (95 SPD). He has an excellent ability to finish and score (80 SHT, 87 DNK). Wall is also excellent as passing and handling the rock (89 DRI, 89 PAS).