Find out which players are the best at the small forward position in NBA LIVE 16 Ultimate Team.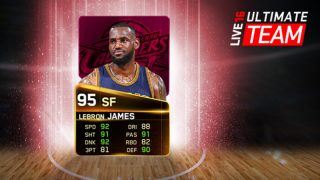 LEBRON JAMES (95 OVR)
CLEVELAND CAVALIERS
6'8, 250 POUNDS
The best player in basketball is the best player in LUT. There's simply nothing that LeBron is bad at. His strengths lie in his athleticism (92 SPD, 92 DNK) and scoring (91 SHT). He can effectively move the ball with a 91 PAS and is a big threat on D with his 90 DEF.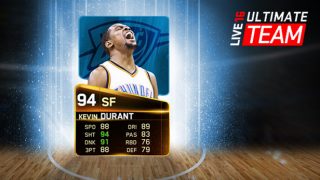 KEVIN DURANT (94 OVR)
OKLAHOMA CITY THUNDER
6'9, 235 POUNDS
One of the best players in LUT, KD has an uncanny ability to score. He'll hit mid- and long-range shots with his 94 SHT and 88 3PT. His dunks are nice, too (91 DNK). Durant has great handles (89 DRI) and has the athleticism to create plays in transition with his 88 SPD.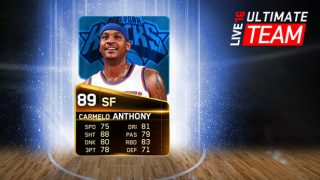 CARMELO ANTHONY (89 OVR)
NEW YORK KNICKS
6'8, 230 POUNDS
Melo is very effective in the post, scoring on offense (88 SHT, 80 DNK) and pulling down rebounds (83 RBD). He won't turn the ball over (81 DRI) and has good range (78 3PT).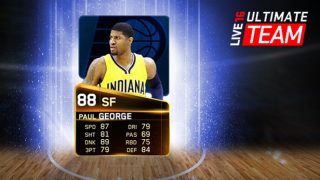 PAUL GEORGE (88 OVR)
INDIANA PACERS
6'9, 214 POUNDS
Paul George is quick for a player his size (87 SPD). He has the ability to create scoring situations on offense (89 DNK, 81 SHT, 79 3PT) and is a very good defender (84 DEF).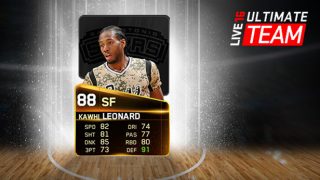 KAWHI LEONARD (88 OVR)
SAN ANTONIO SPURS
6'7, 225 POUNDS
The Defensive Player of the Year comes in with a 91 DEF, Leonard's strongest rating. He is versatile on both sides of the ball with an 81 SHT, 85 DNK and 82 SPD. His 80 RBD is also solid.