Find out which players are the best at the shooting guard position in NBA LIVE 16 Ultimate Team.
JAMES HARDEN (93 OVR)
HOUSTON ROCKETS
6'5, 218 POUNDS
Harden is an athletic scorer with his 92 SPD and 90 SHT. He has great range with 87 3PT. His handles and ability to move the ball around the court are excellent as well, coming in with 88 DRI and 85 PAS.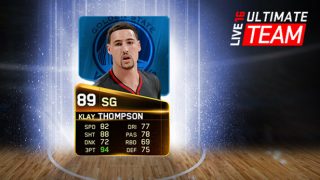 KLAY THOMPSON (89 OVR)
GOLDEN STATE WARRIORS
6'7, 205 POUNDS
Thompson is clutch from long range, coming in with a 94 3PT rating. His shooting ability is among the best, with 88 SHT. He has solid quickness, with his 82 SPD.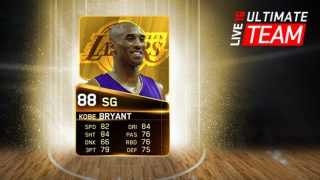 KOBE BRYANT (88 OVR)
LOS ANGELES LAKERS
6'6, 205 POUNDS
The Black Mamba is a versatile player in LUT. He has an 84 SHT and has good handles with an 84 DRI. Kobe's a scorer and has decent long range as well with 79 3PT.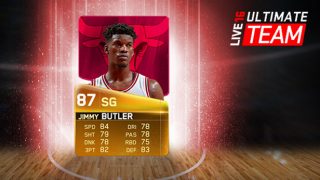 JIMMY BUTLER (87 OVR)
CHICAGO BULLS
6'7, 220 POUNDS
The NBA's most-improved player is a well-rounded player in LUT. He can score on O (79 SHT, 82 3PT, 78 DNK) and can defend very well (83 DEF). He's also athletic with his 84 SPD.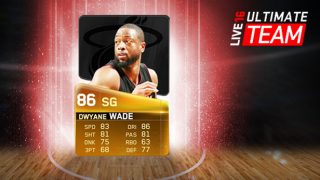 DWYANE WADE (86 OVR)
MIAMI HEAT
6'4, 220 POUNDS
D-Wade has no problem driving to the hoop (86 DRI) and finishing (91 SHT, 75 DNK). He has good speed (83 SPD) and can spread the rock (81 PAS).