NBA LIVE is getting into the giving spirit with the Outfit of the Day Sweepstakes! Between November and December, iconic streetwear brands Undefeated, A Bathing Ape (BAPE), and Pink Dolphin teamed up with NBA LIVE to give players the chance to earn in-game gear for their team. Now, they're taking it a step further.
From December 19 to December 25, players will have the chance to not only win the dope crates they might've missed out on in the game, but also end up with some clothes in real life. How? Play the Live Event challenges, swag your NBA LIVE player out from head to toe, and submit a picture of your player to be one of our Outfit of the Day Sweepstakes winners. Read the full rules.
Want to learn a bit more about these streetwear brands? Let's start with Undefeated, which began in 2002 catering to sneakerheads around Los Angeles with their customization. During the Undefeated LIVESTRIKE, players were able to get a chance at winning the historic Undefeated x Nike Air Force 1 collaboration kicks, and were also able to get their hands on the rare Undefeated x Air Jordan IV. These shoes belong in shoe royalty as only 72 pairs were released – one even sold for an insane $30,000. The toughest shoe to get was the Allen Iverson inspired shoes – only about a third of players were able to get the sneakers AI used to cross players up in.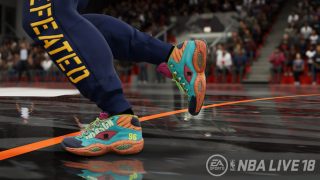 A Bathing Ape is so well-known that cultural legends dating all the way back to the Notorious B.I.G. were rockin' it. The Japanese brand has seen recent collaborations with the likes of Pharrell, Kanye West, Travis Scott, and many others. Their signature camo was the highlight of their LIVESTRIKE – it comes in green, purple, and a multitude of others. While the hoodies and shorts were difficult, most players struggled trying to get the BAPE shoes – an item so nice you'll have to try to get it twice.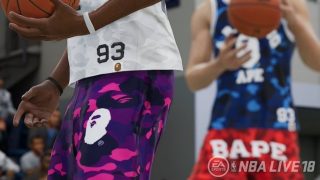 Lastly, Pink Dolphin has rapidly risen to the top of the ranks catering to hoopers, skaters, and anyone in general who stays on top of the trends. Promoting creativity and not being afraid to match cross-gendered designs, their slogan "Legends At Our Craft" really shines when you look at their line. The most exclusive item available during LIVESTRIKE was their Pink Dolphin jackets, only around one-in-five players were able to get their hands on it.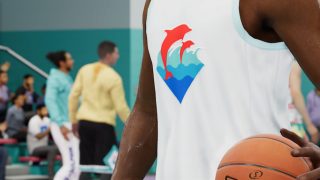 While winning all this in the game is cool, winning it all in real life is even cooler. If your player wins the Outfit of the Day Sweepstakes, Christmas will come early in the form of one of these brands. Stay tuned to both the website and social media for more details.
- Rahul Lal
---
Don't have NBA Live 18? Get your copy now at the Xbox Store or the PlayStation Store.
Stay in the conversation, like us on Facebook and Follow us on Twitter.