After yesterday's announcement of Female Create-a-Player coming to NBA LIVE 19, we're taking a look at some of the overall top ratings for the WNBA's best. While the league is littered with talent, we narrowed down the ratings to the top-three at each position.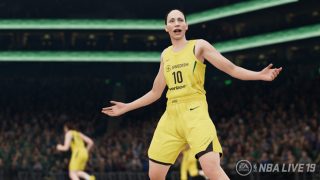 Point Guard
Sue Bird, Seattle Storm (89 OVR)
Jasmine Thomas, Connecticut Sun (86 OVR)
Skylar Diggins-Smith, Dallas Wings (85 OVR)
Earlier this week, Sue Bird set the WNBA record for most regular season games played. She already has the record for all-time assists and has been selected to a record 11 All-Star Games. Safe to say that her legacy is solidified, and she is reflected as one of the best passers in the game. Jasmine Thomas is a monster guarding on ball and Skylar Diggins-Smith is no slouch on defense, either. She's got some of the quickest hands in the WNBA and is quick to steal the ball, but she can also hit some shots on you.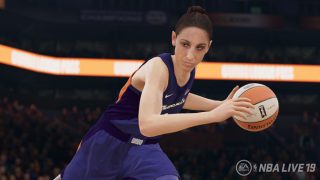 Shooting Guard
Diana Taurasi, Phoenix Mercury (90 OVR)
Chelsea Gray, Los Angeles Sparks (85 OVR)
Seimone Augustus, Minnesota Lynx (84 OVR)
Diana Taurasi is another living legend in the WNBA world. She's amassed three WNBA Championships, multiple individual honors, and has also set records for becoming the first player in WNBA history to hit 1,000 three-pointers and another record for the first player to score 8,000 points. Really, all three of these great shooters flex their form in NBA LIVE 19 as they all are impressive both in real life and in-game when it comes to hitting their jumpers.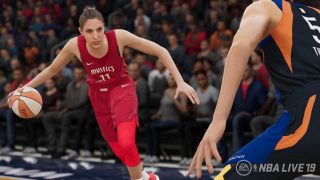 Small Forward
Maya Moore, Minnesota Lynx (93 OVR)
Elene Delle Donne, Washington Mystics (91 OVR)
Nneka Ogwumike, Los Angeles Sparks (88 OVR)
Maya Moore is a four-time champ – in fact, she's won the title every odd-numbered year since 2011. She's chasing the greats in terms of rings and has spent her entire career with the Minnesota Lynx. To speak to her versatility, she's won the WNBA scoring title and been an All-Defensive selection in the same season. Maya Moore is just so well-rounded as a player – of course we know that she's an impressive scorer, but she's also one of the best ball handlers and passers in the game. Elena Delle Donne is a flat-out superstar because of her natural scoring ability, which can extend just about anywhere on the floor. Nneka Ogwumike is a defensive monster and a bruiser down low, she'll steal the ball from you on one end then post you up on the other.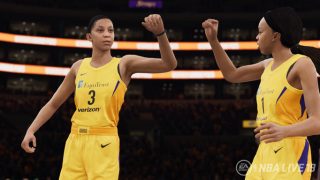 Power Forward
Candace Parker, Los Angeles Sparks (92 OVR)
Breanna Stewart, Seattle Storm (88 OVR)
Chiney Ogwumike, Connecticut Sun (85 OVR)
Candace Parker, our NBA LIVE Squad Member, got real with us about what the growth of Women's Hoops means to her before going in to talk about how she always modeled her game after guards like Allen Iverson. Not only is she a prolific player, she carries a skill set that is totally uncommon for traditional bigs, but the WNBA adopted the concept of position-less basketball much before the NBA transitioned over to it. Parker's guard skills really extend into everything from her dribbling to her passing, but she can also use her size to show her inside scoring touch. Breanna Stewart is easily one of the best rebounding bigs in the WNBA, but can stretch the floor well, too. Chiney Ogwumike, like her older sister, is a beast down low and can dominate you on both sides of the floor.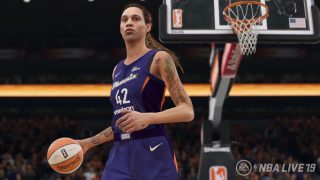 Center
Sylvia Fowles, Minnesota Lynx (92 OVR)
Brittney Griner, Phoenix Mercury (90 OVR)
Tina Charles, New York Liberty (88 OVR)
MVP! MVP! Last year's MVP, Sylvia Fowles, takes the throne for centers in NBA LIVE 19, and she led the Lynx to last year's WNBA Championship. Just recently, in May, Fowles had a game with 23 points, 20 boards, and five steals – the first 20/20/5 game in WNBA history. Safe to say that she's evolved into a historic player in her own right. While Fowles may be the most dominant big, Brittney Griner is probably the most highlight-worthy as she's had some signature moments dunking the ball – something she's equipped to do in NBA LIVE 19. Both her and Tina Charles are nearly impossible to get shots off against as they can swat every shot and grab every board within range.
- Rahul Lal (Follow Rahul on Twitter @rlal95)
---
Stay in the conversation, like us on Facebook and Follow us on Twitter.
Are you ready to get out there and make your mark on the court? You can now pre-order NBA LIVE 19 here.
Sign up today to receive the latest NBA LIVE 19 news, updates, behind-the-scenes content, exclusive offers, and more (including other EA news, products, events, and promotions) by email.