Summer Circuit is a brand-new, unique online co-op mode. Put your squad together and travel across North America to take on some of the best players in each region. Pro Am keeps it real, where you'll challenge both amateur ballers and NBA pros on authentic real-world indoor and outdoor courts.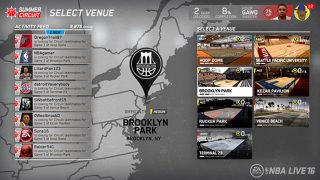 COOPERATIVE PLAY WITH YOUR FRIENDS
In Summer Circuit, you'll team up with up to four online players to take on teams of CPU-controlled opponents. Each team you face will feature a different style of play, unique to the location and roster, so strategy is key. Playing against smaller guards at Venice? Chances are you'll need to guard the perimeter against a flurry of 3's. While at Rucker, you might want to have a big man guarding the rim to protect against high flyers.
While Summer Circuit can be played solo, it's highly recommended you find other LIVE players to team up with. You can quickly match up with other players looking to team up, or start a private lobby and squad up with your friends.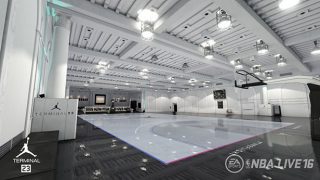 GORGEOUS INDOOR AND OUTDOOR VENUES
There are seven real-world locations: Hoop Dome, Seattle Pacific University, Brooklyn Park, Kezar Pavilion, Rucker Park, Venice Beach, and Jordan Brand's own Terminal 23. At each venue, you'll meet NBA superstars with ties to that location. At Rucker Park, you might run into players who've had legendary performances there. Terminal 23 features some of Jordan Brand's most iconic players.
Each spot also has its own unique flavor and playstyle, including music that changes with the tempo of the game. On each court you'll encounter teams who have a plan and work together – so it's vital that you play as a unit – or real talk, you won't make it far.
PICK-UP GAMES TO 21 POINTS
This is pick-up basketball. Games are fast-paced - first to 21 wins. In each city, you'll compete in a five-game ladder against increasingly challenging opponents. To advance in the ladder, your team needs to win each game. You can start on any court, but some locations are tougher than others – so you'll need to make sure your skills are in order. If you're having a tough time beating better teams on the circuit, you may need to upgrade your player's skills (or maybe find some new teammates).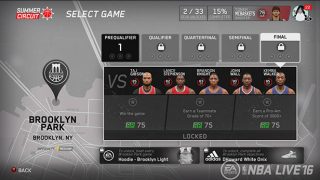 It's not always just about winning. Sometimes it's about winning while looking your best on the court. So to help you look fly, Summer Circuit features unique swag that can only be unlocked by completing objectives in each game, at each court. So those retro Jordan 1's you've been hawking can only be worn by the best of the best. You have to play your way, not pay your way – this swag is earned, not given.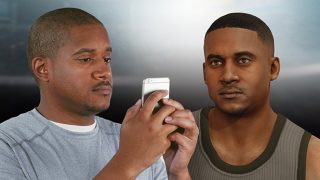 GET YOURSELF IN THE GAME
At the heart of Summer Circuit is you. While winning across the continent, you want people to remember who you are. NBA LIVE 16 lets you customize your player like never before. You can begin with a scan of your face using the all new GameFaceHD. This feature can only be found in the NBA LIVE Companion app – available on iOS and Android devices.
Further customize your player from head to toe with the latest kicks and gear from leading apparel brands including Jordan, or get some exclusive ink from world-renowned tattoo artist Randy Harris.
Stay in the conversation and like NBA LIVE 16 on Facebook and follow us on Twitter.