Staying connected is a core philosophy for NBA LIVE 15. It's not just about playing Online with your friends and rivals, it's about being in lockstep with what goes on in the NBA – all season long.
Through our exclusive partnership with Synergy Sports Technology, we are able to seamlessly receive real-time data that allows us to make adjustments to Tendencies, Stats and Behaviors. This ensures that what is seen in-game is an accurate representation of how these players act in real life.*
*Internet connection required to receive updates
Here's how it all works. Synergy Sports is a sports technology company that provides near real-time analytics and data to all 30 NBA teams. Here's a quick look at some of the info and functionality they provide:
Ability to look up team and players when executing play types like post-ups, pick and rolls, isolations, off screens, spot-ups, transitions and more
Sort video for shot attempts: Catch and shoots, jump shot off the dribble, and drives to the basket
Watch video of traditional stats: Shots, assists, rebounds, steals turnovers, etc.
Useful charts demonstrate jump shot range and player's drive and post-up tendencies
Interactive shot charts let you find shots for any part of the game, or sort shots by play type, bench vs. starters, individual players and much more
View and sort video by man-to-man or zone, end or side out-of-bound plays, after time-out plays, time the team pushes the ball in transition
Graphic tools compare players head-to-head, using regular stats or play type stats
Unique graphics and charts make Synergy's advanced statistics come alive
Leaderboards let you assess any player in hundreds of categories, and compare them to the rest of the players in their league
NBA teams use this data to build scouting reports, coach players and much more. This data is available at an extraordinarily granular level for all games after their completion.
So how does Synergy Sports Technology work with NBA LIVE? Synergy Sports provides us a direct feed of player scouting DNA and Tendencies. We are then able to take this data and apply it to our game – which dynamically affects player tendencies in-game, as well as modes such as LIVE Seasons and Tonight's Games.
This information also tells us things that don't appear in the box score, such as shots off the dribble or if a player was being guarded - which all influence ratings. One of the goals we have for the future of NBA LIVE is to remove subjectivity from player ratings and performance – a true 1:1 representation of each and every player in the league.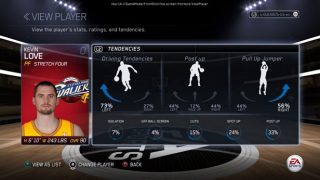 So let's take Kevin Love, for example. In his new home in Cleveland – playing alongside LeBron James and Kyrie Irving – how he plays will be much different than when he was in Minnesota.
As a result, his tendencies will change as he settles in. With Synergy Sports Technology integration, you will see those adjustments in real time.
This means that when you go to play against the Cavs – you will notice a different play style from Kevin that you will have to account for as the season progresses.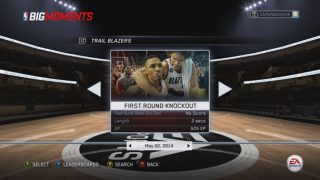 Synergy Sports Technology also drives our BIG Moments and NBA Rewind features. Once a game is finished in real life, we are able to take Synergy Sports data and instantly create LIVE Season challenges based on the stats and highlight plays from that game.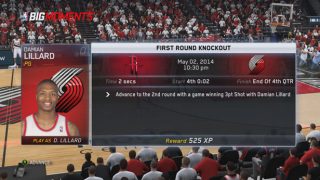 BIG Moments are key plays or stretches of the game such as a player having a huge quarter or a thrilling game winning buzzer beater. You then can play through these quick scenarios with the exact stats, tendencies, and line-ups on a per minute basis.
The key to providing this experience is the fast data delivery from Synergy Sports Technology – so after Damian hits that clutch buzzer-beating shot, you'll be able to jump on NBA LIVE 15 and see if you can do it yourself.
So as you can see, Synergy Sports Technology is a driving force behind what keeps NBA LIVE 15 connected to the real NBA.
Our server stability ensures that your game will be seamlessly updated – with adjustments being made to player ratings, tendencies and behavior. We are truly #LIVEallSeason long.
See what else Synergy Sports Technology can do when NBA LIVE 15 hits stores on October 28th.
Stay in touch with NBA LIVE 15 updates by checking out our Facebook and Twitter pages.