UPDATE: THE PROMOTION HAS ENDED. STAY UP TO DATE ON ALL THINGS LIVE ULTIMATE TEAM BY VISITING THE LUT HUB.
NBA LIVE 15 drops next week and wanted to show you how much we appreciate the support we've been getting from fans.
We know you've waited a while for this game, and as a sign of that appreciation, if you pick up NBA LIVE 15 during launch week (October 28 – November 6, 2014) you're going to get hooked up with $30 worth of Ultimate Team content*. That's 10 Gold Premium Packs, just to thank you for grabbing a copy during launch week.
Real talk. There are no hoops to jump through, all you have to do is boot up the game and the first time you connect online you'll automatically get the bonus content.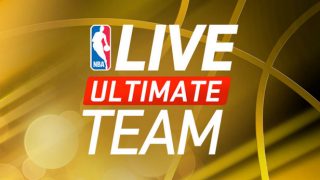 We also want to note that this is not console specific. This offer is good for both Xbox One and PS4 versions, so no platform exclusivity. The offer is also good wherever NBA LIVE 15 is sold.
Just remember, this offer only runs during the first week of launch (Oct 28 – Nov 6).
For more info about Ultimate Team or how it works, here's a blog laying out the mode and giving you the basics. We hope to see you out on the court, and thank you again for supporting NBA LIVE.
*THIS OFFER IS BEING ISSUED TO YOU FOR PROMOTIONAL PURPOSES ONLY AND DOES NOT CONSTITUTE A CREDIT, CHARGE, DEBIT OR GIFT CARD. OFFER EXPIRES NOVEMBER 6, 2014. ONLY AVAILABLE FOR NEW PURCHASES OF NBA LIVE 15 ("PRODUCT"). BONUS ULTIMATE TEAM PACKS DELIVERED WITHIN PRODUCT BY LOGGING INTO PRODUCT BY NOVEMBER 6, 2014. BONUS PACKS WILL NOT BE ENTITLED AFTER THAT DATE. ACCEPTANCE OF PRODUCT END USER LICENSE AGREEMENT (EULA) REQUIRED TO PLAY. INTERNET CONNECTION AND ORIGIN ACCOUNT REQUIRED TO ACCESS ONLINE FEATURES. YOU MUST BE 13+ TO ACCESS ONLINE FEATURES. EA ONLINE PRIVACY AND COOKIE POLICY AND TERMS OF SERVICE AVAILABLE AT WWW.EA.COM. EULAS AND ADDITIONAL DISCLOSURES AVAILABLE AT WWW.EA.COM/1/PRODUCT-EULAS. EA MAY RETIRE ONLINE FEATURES AFTER 30 DAYS NOTICE POSTED ON WWW.EA.COM/1/SERVICE-UPDATES.