WHAT'S NEW FOR THIS YEAR?
NBA LIVE 16 Ultimate Team (LUT) is back this year, with all-new innovations for the fastest-growing mode in NBA LIVE. You'll find deep dives on these features as we get closer to release day on September 29th - mark your calendar!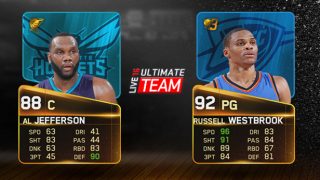 TURN YOUR SPECIALISTS INTO MASTERS
This season, you'll find a new kind of Player Item called Specialists. These special Items feature one aspect of a player you already know, like a Stephen Curry focused on 3-point shots or a Lebron James with uprated defense. Look for that Specialist edition of your favorite player that fits your personal play style perfectly.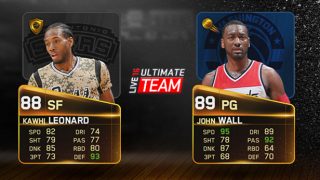 Find Specialists in packs or earn them by completing Master Fantasy Challenges. You'll have to build teams that meet all kinds of entry requirements to work your way up to the Master challenges. Your main aspiration in Live Ultimate Team this year is acquiring master editions of LUT players.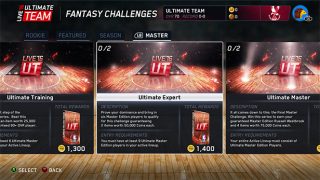 The rewards for the toughest Master Fantasy Challenges are off the charts. Check out the Ultimate Expert above with two Items worth 50,000 Coins each. Even better, the final Ultimate Master Fantasy Challenge awards four items worth 75,000 Coins each.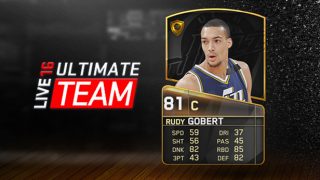 Master players represent your mastery of LUT, and can be acquired by playing fantasy challenges in the Mastery category. Collect an entire team of Master players and be eligible for a matchup where victory will reward you with the ultimate prize: a 96 OVR Master Edition Russell Westbrook.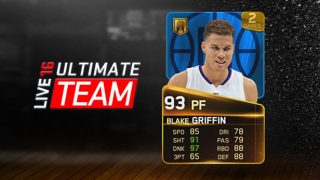 TEST DRIVE SHORT TERM PLAYERS
Another new feature in NBA LIVE 16 Ultimate Team is Short Term Players. This gives you a chance to 'test drive' some top level players for a limited number of games. Keep an eye on the games remaining in the top right corner of the item – and don't worry, the game will remind you when you're on your way into the last game that he'll play for you – so use these players wisely! Look for these new players as rewards for different Fantasy Challenge games.
You can see that this Short Term edition of Blake Griffin is a Rebound Specialist, so he could help you get through the Rebounding Master Fantasy Challenge and unlock the next one.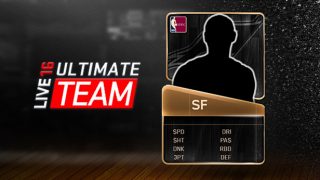 SEE INTO THE PAST WITH THROWBACKS
Not only does NBA LIVE 16 Ultimate Team feature legends from all the different eras of NBA history – this year look for special Throwback players to be featured in packs. We're not giving anything away yet – just look for current players back in different phases of their careers – maybe it's a Rookie version, maybe an MVP? These players won't just play like they did back in those days, but they've been modeled to look just like they did back then too. Just wait until these guys start to drop.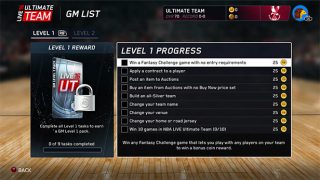 YOUR GM HAS A PLAN FOR YOU
So now where do you begin? Well, the GM List is the best place to start to get a tour of the new features – not to mention earning some coins and reward packs along the way. You'll learn how to work through auctions, apply contracts…all the basics – all the way up to building some elite teams or racking up the W's.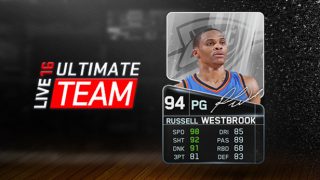 HOOPS NET REWARDS
You can receive special HoopsNet rewards for just about every activity in NBA LIVE 16, and LUT is no exception. There are all kinds of rewards, and you'll increase your chance of receiving them by simply playing the game. One of the top rewards you can receive for LUT is the sweet Russell Westbrook item shown above.
#RISETOGETHER
As always, the LUT 16 team is committed to new content throughout the year – new games, new items, new programs. Get involved in Community Challenges by submitting your team – or just share the team you've built – and let us know your strategy for building your Ultimate Team.