The NBA All-Star isn't just another game. It's a celebration of the league's best players and the NBA's impact on both sports and culture.

This year's game in Los Angeles features a new twist, going away from the traditional East vs. West game. Instead it will have 2 Captains (LeBron James and Steph Curry) with players mixed from each conference.

NBA LIVE Mobile has a jam-packed program (February 15-23) to honor this special occasion in and we hope you're excited to get things started.

Beginning with your first login on February 15, play Live Events and complete daily objectives to earn All-Star Silver and Gold Tokens. Once you earn enough All-Star Gold Tokens, you can turn them into a set for an All-Star Elite Token and an All-Star Elite Player.

Remember how we mentioned the All-Star Captains? You can earn both Steph and LeBron by collecting every All-Star Elite token. You'll get Platinum versions of Lebron and Steph cards - a brand-new player tier! This will be the highest tier of player, right above Elite versions.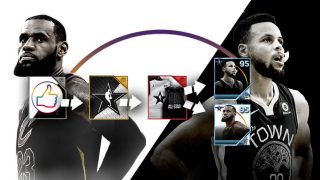 Some more info below:

Players
26 Elite All-Star Players

OVR 82-89
Auctionable
Players includes:

James Harden
Giannis Antetokounmpo
Goran Dragic
Kemba Walker
Al Horford
Andre Drummond
Kyle Lowry
Bradley Beal
John Wall
LaMarcus Aldridge
Jimmy Butler
Damian Lillard
Kevin Love
Karl-Anthony Towns
Victor Oladipo
Kristaps Porzingis
Paul George
Draymond Green
Klay Thompson
Russell Westrbook
DeMar DeRozan
Anthony Davis
DeMarcus Cousins
Joel Embiid
Kevin Durant
Kyrie Irving

2 All-Star Platinum Captains

95 OVR Lebron James (this version has the highest speed rating in the game)
95 OVR Stephen Curry (this version has the highest 3-point version in the game)

Live Events
All-Star Challenge Event: this event takes place on the exclusive NBA LIVE Mobile All-Star Court! Your competition will keep you guessing between NBA and Classic lineups. Here are some of the modes you can test your skills on.

3 Point Contest: Are you a top marksman? The iconic contest even features the red, white and blue ball as you move from station-to-station trying to get the highest score.
Dunk Contest: Arguably the most exiting play in basketball, practice your dunking for success on the court.
Skills Challenge: Another All-Star Weekend favorite, weave your way through the obstacles to show you got the skills and have what it takes to be an All-Star.

All-Star Game Event: this event lets you compete in the All-Star Game to get one step closer in obtaining All-Star Players. Here's the scenario!

5v5 Game
4th quarter, 60 seconds left
Up by 7, Your ball
Opponent OVR = 85 (Elite team)
Opponent Roster = All-Star Players
Your Roster = Your best NBA LIVE Mobile team
Make it happen!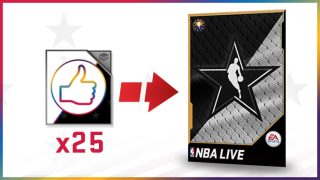 Sets
There are a total of 6 sets including:
All-Star Vote
Elite All-Star Player & Jersey
All-Star Captain LeBron James
All-Star Captain Stephen Curry
All-Star Jersey
All-Star Wild Card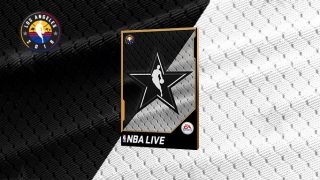 The last two sets (Jersey & Wild Card) are here in case you get stuck and will let you turn your All-Star Elites into other items you might need.

That wraps it up for now. Make sure to login daily to build your team and celebrate All-Star weekend in style!

-- NBA LIVE Mobile Team
---
NBA LIVE Mobile is available now on iOS, Google Play and Windows Phone. Stay in the conversation, like us on Facebook and Follow us on Twitter.