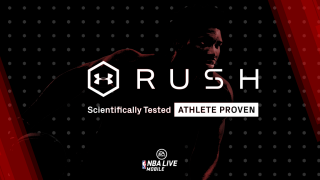 On May 1st, UA RUSH was integrated as a core experience within NBA LIVE Mobile – hosting a campaign that highlighted Stephen Curry's basketball prowess and the boost UA RUSH provides in the practice gym. From the in-game challenges players competed in, to the attribute boosts they received in return, this was an experience designed to recreate the same grind and return consumers can expect with UA RUSH gear.
"Once we heard the performance effects Under Armour RUSH gear has on our NBA athletes, we realized it was a perfect partnership to showcase in-game. We are honored to highlight UA RUSH and give our users a chance to earn a UA RUSH branded version of Stephen Curry that becomes the most powerful player in the game to date." - Vishal Aasdhir, Director of Product Management, Electronic Arts Inc.
Starting June 1st, the feature player for the RUSH program will change hands from Stephen Curry to Joel Embiid – the cover athlete for NBA LIVE Mobile and UA's rising super star ambassador.
"Featuring Joel Embiid for the 2nd month of our partnership was an incredible opportunity to engage the basketball world with a unified voice and gameplay experience between our brands. By highlighting Under Armour's premier roster of basketball talent through the RUSH product narrative, we are able to create a truly unique integration." - Alex Nunez, Global Brand Partnership, Electronic Arts Inc.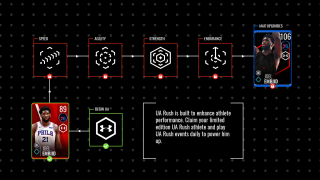 For Under Armour, presence in gaming is a familiar territory with product integration and vanity sponsorships across different sports game IP. However, the RUSH integration in NBA LIVE Mobile provides a new layer of brand engagement where players will receive in-game performance value through this totally Under Armour owned experience.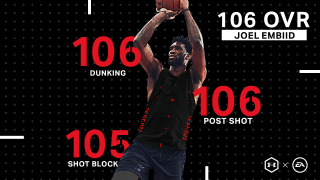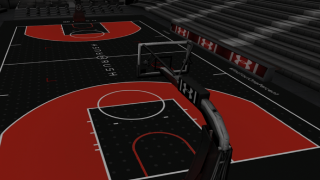 The UA RUSH experience in NBA LIVE Mobile featuring Joel Embiid is playable through June 30th.
To learn more about EA SPORTS NBA LIVE Mobile, follow us on Twitter, Facebook, or Reddit.