2015-09-11
EA
Wheels
Every good ride needs an awesome set of wheels and in Need for Speed you've got plenty of options available to you. Customize all four equally or create individual setups at the front and rear? The choice is yours.
Select your tires, choose your calipers and freshen up with some brand new brake discs – the depth of choice here will let you create almost anything you want. Once your wheels are ready to hit the road there's one final item to apply: the rims.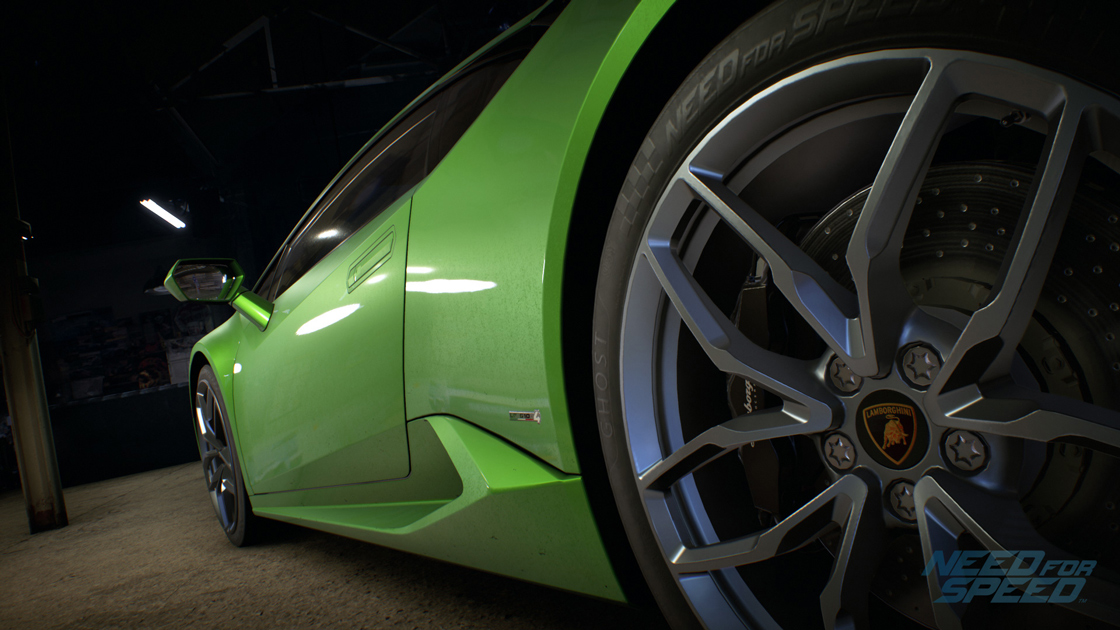 With a variety of rims at your disposal you'll never be short of options but you're going to want to ensure they match the rest of your ride's design. Painting your rims comes in two parts; primary and secondary, and both have the full suite of paint options available. We'll be going into more detail about in the coming days so be sure to keep your eye out for that.
Rim size completes your look, from the smallest 14 inches to the largest 22 inches, find that perfect finishing touch. The end result is a set of wheels that ooze personality. Symmetrical beauty or something more radical, which will you go for?
Front of the Car
One of the first things you'll notice when tackling the front of your car is the ability to modify your stance. Whether you are changing the ride height by slamming it to the ground, raising it up, or anything in between, you choose your perfect ride height. Throw in options for rake and both front and rear track width, and you're on your way to creating something truly unique.
Suspension tuning is finished up with your camber. With the angle on both the front and rear wheels being set independently you've got the ability to create some truly out of this world looking cars.
Moving onto the body work and chances are you're now quietly muttering the words 'carbon fiber' under your breath, so what better place to begin? Your hood is fully customizable and yes, expect plenty of carbon fiber.
A great hood is going to need to be accompanied by an equally as impressive bumper, and what's a bumper without a set of canards? Apply some additional style to your bumpers as the front of your car starts to take shape.
Not happy with your stock headlights? Swap them out for some more fitting for your ride before heading down to the splitter and turning your awesome looking car into an aggressive monster of automotive machinery.
We've already talked about wheels so you're going to want to pay attention to your fenders. Individually selected at the front and rear, they'll ensure you can get a really unique look, and let's be honest, your wheels deserve it.
Finish it all off with the windscreen. Remove the tint entirely, go for the pitch black look or find that sweet spot in between. Not to be outdone by their larger cousin, the wing mirrors can also be customized, giving you the ability to change their appearance completely. It's the little touches that go a long way to creating an awesome looking motor, and wing mirrors are just one of these minor details that often get overlooked but are so important to making your ride your own.
Rear of the Car
Give everyone you leave behind something to look at by working on the rear of your car, and it would be almost criminal not to start with the spoiler. Whether you're a fan of the subtle lip look or the monster wing, there's something for everyone's tastes. Oh, and if you're that way inclined you can double stack some of the spoilers. You know what they say, two is better than one!
Now would be a good time to change up your sound system before swapping out the stock trunk for something that fits the overall design for the car.
It would be easy to have the rear of your car mirror the front, but this is Need for Speed we're talking about! Bumper, fenders and canards can all be changed independently from their front-facing counterparts, but even with those looking exactly how you want there's still more to do.
Not content with the way your car is sounding? Swapping out the exhaust for another is a quick and easy way to ensure it's hitting all the right notes as you cruise around the nocturnal streets of Ventura Bay. Having attached your new exhaust you'll want to fit the diffuser of your choice before finalizing the rear with a new set of taillights.
The last thing left to do is to modify your licence plate, before you stand back and admire the beauty now sat in your garage. What was once just a vision in your mind is now your personal fully-modded ride, ready to take Ventura Bay by storm.
Bodykit
Bodykits are comprised of a selection of pre-set modifications, from bumpers and side skirts to spoilers and much more! Not only do these kits look absolutely stunning, but because all the parts complement each other they are a great way to get your car looking awesome within seconds. Perfect for those that want a ready-made solution to their car customization from some of the leading names in the aftermarket industry such as Rocket Bunny and Liberty Walk.
Become part of the conversation on all things Need for Speed by liking us on Facebook, following us on Twitter, listening to our music on Spotify and being the first to watch our new videos by subscribing on YouTube. To get started in Need for Speed visit the buy page. Play Need for Speed No Limits on Mobile.