Under the Hood...three little words but damn, it's good to be back!

It's been a while since we found ourselves here on this hallowed ground, otherwise known as the Need for Speed website. But enough rambling, let's drive straight into business.

We're close, very close to the launch of NFS Payback and the whole team at Ghost has been working tirelessly, around the clock to give you the best game possible. We're now putting the final touches onto the game and we can't wait for you to get your hands on the game come release.

Talking of release, you've got multiple dates to keep in mind and as a recap:
EA & Origin Access: Nov 2nd
Deluxe Edition: Nov 7th
Worldwide Release: Nov 10th
Car Wreck Cameras
When we first showcased the Highway Heist back at EA Play, part of the feedback we started to receive centered around the short camera sequence that was displayed when a car crashed.
We began to investigate to see what was possible and we're pleased to confirm that car wreck cameras will be an option you have control over. Keep them on or turn them off, the choice is entirely down to you.
Air Suspension
Trust us on this, vanity items are going to change the way you customize your cars in NFS Payback. Air Suspension is one of those, and no doubt we'll be seeing it in plenty of the screenshots you take. But how does it work, what does it look like?
It's simple. Park up, switch off your engine and watch as your car kisses the floor. Turn the engine back on again and watch as your car raises upwards. Car goes up, car goes down. Very simple, but also very cool.
From the Art Room
There's been a lot of requests for concept art lately. Our incredibly talented artists create folders full of amazing quality artwork and while we're looking at ways to showcase this in the future, here's a piece to keep you going.
This piece of concept art is focused around Airfield 73, and will become somewhere you'll become very familiar with as it provides the location for your first garage. There's nothing better than exiting the garage, driving straight down the runway and up over one of the conveniently placed ramps for some big air.
You May Have Missed
There's been plenty of announcements lately that you may have missed. Starting with our minimum and recommended PC specs. Next up is the achievement and trophy list - gotta collect them all!

Of course, how could we forget our world trailer? If you haven't yet seen it, then what are you waiting for? Head on over to YouTube and feast your eyes on the biggest open world in Need for Speed history. If you're wanting a few extra details, the world section on the website is everything that you'll need. Lastly, we've got a news article that has even more world details. Spoilt for choice.

The world really is something we're very proud of. Not just for the scale but because it's jam packed full of things to see and more importantly, things to do. There's nothing like drifting your way up to Marshall's Observatory, racing across Silver Dam or just heading purely off-road through the desert.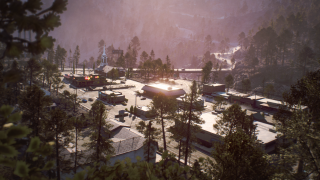 Community Spotlight
While we may have NFS Payback firmly on our minds, we haven't forgotten about Need for Speed 2015. We've said it before, and we'll say it again, we're completely blown away by the content our community are creating. If you're an active part of the NFS community you will have seen CROWNED's content before. His latest release though, is something awe-inspiring, take a look below. One thing is for sure, we simply cannot wait until he gets his hands on NFS Payback.
We're on the road to launch but it won't be long before you're watching new trailers and reading more about NFS Payback. Up next, the story and characters.

Stay tuned.