Created with a traditional aesthetic in a way that's never been seen before, the Digital 6 jersey design for the Chicago Blackhawks arrives in NHL® 19 with fascinating patterns. Capturing the vibrant energy of Chicago, this look is a one-of-a-kind addition to a completely new lineup of designs. Jump into HUT on November 5 where you can collect the jerseys first, and then continue to enjoy them in other modes starting November 19. Carry the tradition of the Blackhawks with these colorful jerseys created in partnership with adidas.

The Chicago Blackhawks Digital 6 Design

Featuring more colors than any other professional sports team, the Chicago Blackhawks' logo has been expanded out onto the rest of the jersey, creating a classic striped appearance with a color scheme made up of seven different shades. These stripes are proportional to the logo on the chest, giving the design a balanced look while featuring incredible patterns.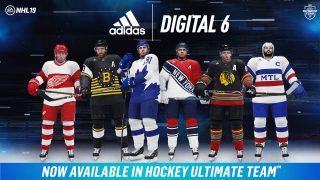 A time-honored appearance mixed with new-age appeal makes this a jersey that you'll want to grab as early as possible, and the best way to do that is through Hockey Ultimate Team™! See all the details below.

Collect All Six in Hockey Ultimate Team
The Digital 6 jerseys will be available first in Hockey Ultimate Team™ on November 5 before coming to more modes on November 19. You can acquire the Digital 6 in HUT by the following ways:
Get one of six jerseys featuring your favorite Original Six team today by entering Hockey Ultimate Team. Redeem the Digital 6 choice pack located in the HUT store before November 19. Don't miss out!
Six HUT Challenges featuring an Original Six team can be completed to earn the remaining jerseys.
See full details on the Digital 6 Event in HUT.
---
Stay up to speed with NHL 19 on Facebook, Twitter, and Instagram.
Get your copy of NHL 19 now, and start your journey from the ponds to the pros.
Sign up today to receive the latest NHL 19 news, updates, behind-the-scenes content, exclusive offers, and more (including other EA news, products, events, and promotions) by email.