Celebrating the francophone roots of the city, Montreal's Digital 6 jersey arrives in a bold bleu, blanc, and rouge color configuration. With designs that have never been incorporated into a Canadiens jersey, this is a completely unique part of the Digital 6 collection. Jump into Hockey Ultimate Team™ on November 5 where you can collect the jerseys first, and then continue to enjoy them in other modes starting November 19. Now, take a look at the design behind Montreal's jersey.

Montreal's jersey celebrates the city's francophone roots in a way that's never been seen. Bringing together the traditional color scheme of Bleu, Blanc, and Rouge, this jersey pops with originality thanks to a number of special design choices that went into creating this look. The MTL abbreviation is a nod to how the locals refer to their city, surrounded by vivid striping and the iconic "C" from their crest used as the captaincy "C."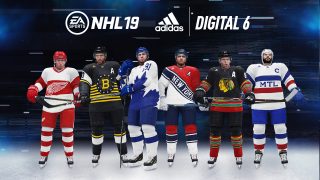 The Canadiens jersey will be available first in HUT on November 5, and you'll want pay homage to the Original Six with this modern look as early as possible. See the full details below!

Collect All Six in Hockey Ultimate Team™

The Digital 6 jerseys will be available first in HUT on November 5 before coming to more modes on November 19. You can acquire the Digital 6 in HUT by the following ways:
Get one of six jerseys featuring your favorite Original Six team today by entering Hockey Ultimate Team. Redeem the Digital 6 choice pack located in the HUT store before November 19. Don't miss out!
Six HUT Challenges featuring an Original Six team can be completed to earn the remaining jerseys.
See full details on the Digital 6 Event in HUT.
---
Stay up to speed with NHL 19 on Facebook, Twitter, and Instagram.
Get your copy of NHL 19 now, and start your journey from the ponds to the pros.
Sign up today to receive the latest NHL 19 news, updates, behind-the-scenes content, exclusive offers, and more (including other EA news, products, events, and promotions) by email.