This fall, you'll be able to experience the epic scale of the Star Wars™ universe with a Star Wars™ Battlefront™ II multiplayer Beta on PlayStation 4, Xbox One, and Origin for PC.
Even better? Any fans who pre-order the game (or have already pre-ordered it) will be able to start playing the multiplayer Beta early*. In addition, anyone who pre-orders will get instant access to an upgraded Epic Lightsaber Mastery Star Card for Yoda, available while supplies last*.
Players who pre-order will also receive exclusive Star Wars™: The Last Jedi™ content including:
Exclusive** Star Wars: The Last Jedi outfits for Kylo Ren and Rey
Instant access to six hero and starfighter epic Star Cards

Kylo Ren: Power Reach and Solid Freeze
Rey: Far Sight and Deep Mind
Starfighters: Enhanced Auxiliary Power and First Order ship upgrade

Instant access to Star Wars: The Last Jedi Millennium Falcon with updated sounds and appearance
This content will be available for everyone who pre-orders, no matter which version you plan on playing. Additionally, pre-orders of the Star Wars Battlefront II: Elite Trooper Deluxe Edition Deluxe Edition come with three-day early access to Star Wars Battlefront II and upgraded versions of all four trooper classes**.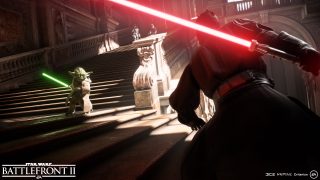 Star Wars Battlefront II officially lands on November 17 for PlayStation 4, Xbox One, and Origin for PC.
In the meantime, be sure to follow EA Star Wars on Facebook, Twitter, and Instagram to stay up to date on the latest announcements. We will have more to share soon.
*Conditions and restrictions apply. See https://www.ea.com/games/starwars/battlefront/battlefront-2/disclaimers for details.

**Exclusive to preorder and Deluxe Edition customers.