2018-01-27
Electronic Arts
Heroes in the Resistance can be found at all levels; from admirals to maintenance techs. And when you're fighting against the ruthless First Order, when even a single champion can turn the tide of battle - it's all the better with two!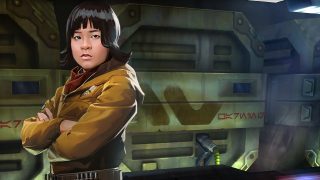 Amilyn Holdo
In many instances, leadership is not sought out but rather is thrust upon the unsuspecting in a time of great need. This was the case in Star Wars™: The Last Jedi™, when Leia Organa was regrettably injured and Vice Admiral Amilyn Holdo assumed command of the Resistance fleet aboard the flagship, Raddus.
While she is classified primarily as a Tank, Amilyn Holdo doubles as a surreptitiously potent Support character. She excels at repeatedly providing Resistance allies with Foresight, and if removed, Holdo will Taunt to draw the enemies' attention. And in a grand gesture, she can remove all debuffs on an ally, also restoring large quantities of Health and Protection.
Basic Ability: Measured Shot
FINAL TEXT: Deal Physical damage to target enemy and the least healthy other Resistance ally gains Foresight for 2 turns. When this Foresight expires, that ally recovers 10% Health.
Special Ability 1: Bunker Buster
FINAL TEXT: Deal Special damage to all enemies and inflict Daze for 2 turns. Inflict Defense Down and Evasion Down on the primary target for 2 turns. (Cooldown 5)
Developer Note: Amilyn Holdo has displayed resolve in her purpose and ingenuity in her surprise attack to regain control of the Raddus in a tense situation. Her mutinous captors were not ready, hence the AOE Daze while drawing attention to the primary target with Defense Down and Evasion Down.
Special Ability 2: Reprieve
FINAL TEXT: Dispel all debuffs on target other ally. They recover 40% Health and 20% Protection. (Cooldown 5)
Unique Ability 1: Quiet Confidence
FINAL TEXT: When another Resistance ally loses Foresight, Amilyn Holdo gains Taunt for 1 turn. While Amilyn Holdo doesn't have Taunt, she has +50 Speed and all other Resistance allies have +20% Critical Avoidance.
Developer Note: Holdo was a seasoned leader of the Resistance and believed in their cause. Her Quiet Confidence inspired some and stirred up doubt in others in the Resistance. Holdo's ability to protect other Resistance allies is the embodiment of her courageous leadership.
Rose Tico
Having originally joined the Resistance as a maintenance tech alongside her pilot/gunner sister, Paige, the battle of D'Qar and destruction of the Resistance base left Rose without a sibling. Devastated, Rose soon discovered that destiny had other plans for her.
Rose Tico continues the legacy of the Resistance faction's powerful synergy with Expose debuffs. She is able to sap the Turn Meter of Exposed enemies and gains bonus Offense for each of them. Her single-target stun ability will also inflict Daze, virtually removing that character as a threat from the fight.
Basic Ability: Courageous Shot
FINAL TEXT: Deal Physical damage to target enemy and grant Tenacity Up for 2 turns to a random Resistance ally who doesn't have it. 50% chance to attack again (once per turn).
Special Ability 1: Dauntless Idealism
FINAL TEXT: Resistance allies gain Defense Up for 2 turns. Remove 10% Turn Meter for each Resistance ally from target enemy. Rose Tico gains 10% Turn Meter for each Resistance ally and each First Order enemy. (Cooldown 5)
Developer Note: Just as she rushed into the thick of the action in The Last Jedi, Rose thrives in a pitched battle with Resistance allies and First Order enemies. Along with her stun ability, Rose can delay a single target enemy quite a bit with her special abilities.
Special Ability 2: Shock Prod Strike
FINAL TEXT: Deal Special damage to target enemy and inflict Stun for 1 turn. When this Stun expires, the target is Dazed for 2 turns, which can't be Evaded or Resisted. (Cooldown 5)
Developer Note: Rose Tico literally stuns Finn moments after she's introduced to us, with enough power to knock him out. This fun nod to The Last Jedi pairs well with adding a Resistance character with a useful Stun/Daze combo to disable problem enemies.
Unique Ability 1: Valiant Spirit
FINAL TEXT: Rose Tico has +10% Offense for each Exposed enemy. When a Resistance ally scores a Critical Hit, Rose Tico gains 15% Turn Meter.