2016-07-13
Electronic Arts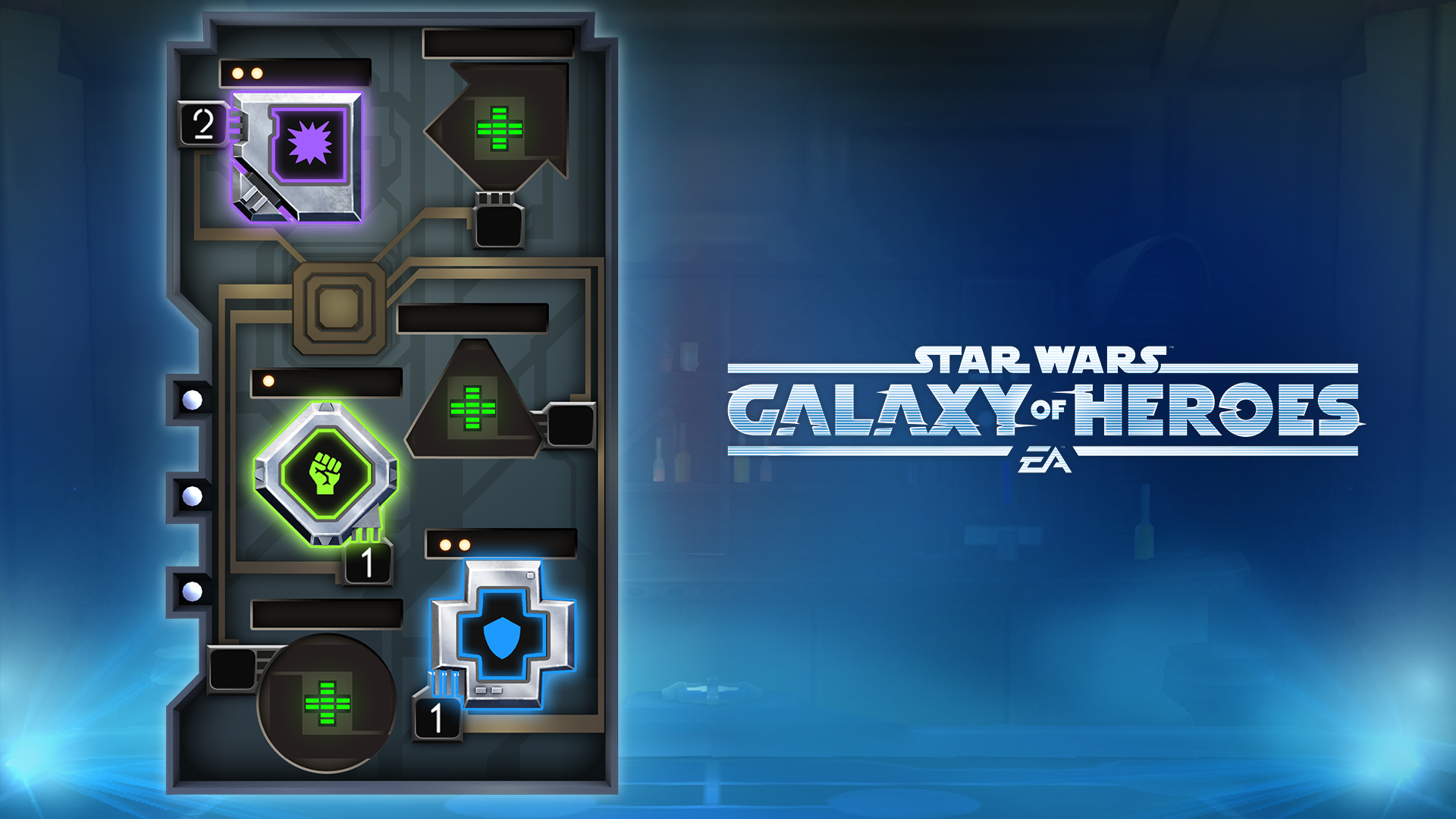 The latest update for Star Wars™: Galaxy of Heroes unlocks a new feature called Mods! Mods are a new progression system for Characters level 50 and above. It will allow you to enhance and customize your Characters' stats in a way never before seen at the holotables!
To help you get started, we've put together a quick overview of Mods and what they can do to power up your squad!
What are Mods?
Mods are a new type of item that allow you to customize the stats of the character to which they are equipped. A character can equip up to 6 different Mods at once and each one will add stats to that character.
Mods come in 6 different shapes, and you can assign one of each shape to a given Character. Mods add a primary stat (for example, Health) and will add additional secondary stats once the Mod is leveled up.
You can also unlock Mod set bonuses by assigning multiple Mods of the same type (same symbol). Some sets will require 2 Mods of the same type to become active while others will require 4. You can see the different types of Mods, set bonuses, max set bonuses, and the number of Mods to unlock the set bonuses in the chart below: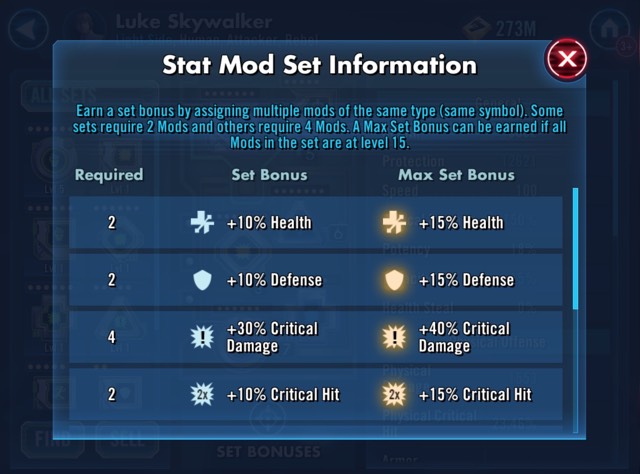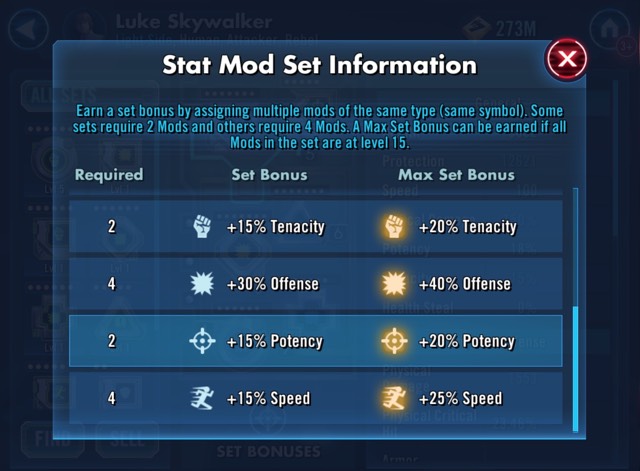 A Mods set does not influence the primary or secondary stat increases of the Mod (i.e., a Health Set Mod can have offensive primary and secondary stats. A Mod's primary and secondary stats are capable of buffing any of the stats available to a character (health, offense, tenacity, speed, etc.). Looking at all aspects of a Mod (set, rarity, primary stat, secondary stats, etc.) will help you maximize its benefits!
Tip: Use Mods to increase a Character's strengths or offset their weakness. Rey is a great attacker, but susceptible to debuffs (her Focused Strikes ability is contingent on her not having any negative status effects). By utilizing Tenacity set Mods (giving her increased resistance to negative status effects) you can counter this vulnerability.
Where can I get Mods?
Mods are available in multiple places:
Mod Battles – A new area of the Cantina that unlocks when a Character hits level 50, use Cantina energy to battle and earn Mods.

Tip: Mod Battles award MK I and MK II rarity mods.
Mod Challenges – Unlocked once you have beaten Mod Battle 3G, this is a new area of the holotables that pit you against various battles which focus on different parts of your collection.

Tip: Overcome these restrictions and become victorious for a chance at rarity MK III, MK IV, and MKV mods!
Raid Rewards – Some of the rarest Mods may be obtained in the hardest Tiers of the Raid Rewards. You will definitely want to get these to strengthen your team in future Raids.

Tip: Raids give rarity MK VI mods.
Where can I adjust my Mods?
Assigning and editing mods occurs on the character screen. Selecting the Mods on the Character screen (at the bottom) will bring up the Mod Menu.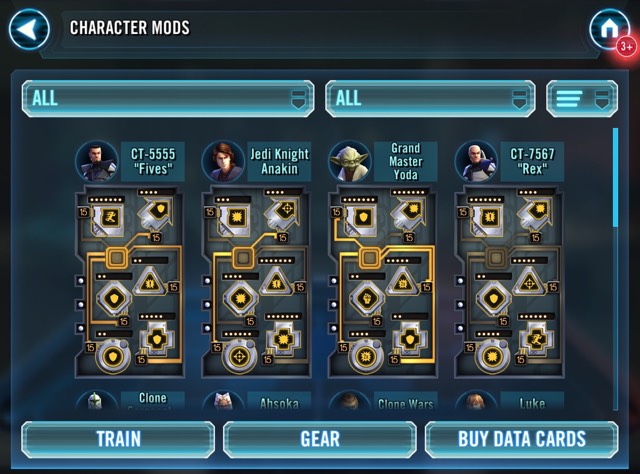 Here you can see all your characters who are eligible for Mods as well as a quick glance at any Mods they currently have equipped.
Selecting a character brings you a more detailed look at your character's Mod Card.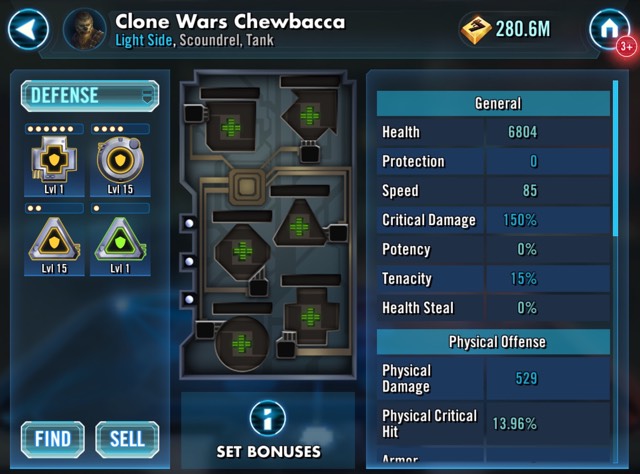 Here you can Assign, Upgrade and Lock your Mods.
Assigning a Mod
When looking at a Character's Mod card simply tap any open Mod slot in their card and select a corresponding Mod that is available and hit "Assign." You will see the stat panel on the right (your character's stats) and be able to review the stat upgrades offered by that particular Mod. If you are happy with this choice select "Confirm" to finish assigning that Mod!
Tip: You can only assign Mods to slots that correspond to their shape.
Tip: Always remember to consider the set bonuses that are available to you when assigning your Mods. Sometimes a set of weaker Mods is better than a non-set of stronger Mods due to the unlocked set bonus!
Upgrading a Mod
Mods have levels ranging from Level 1 up to Level 15. Leveling up a Mod will increase its primary stat bonus as well as possibly unlocking additional secondary stats.
Tip: Max set bonuses are only possible with sets of max level Mods (level 15).
To upgrade a Mod simply select it in the Mod screen (whether it is equipped or not) and select "Upgrade" on the left side of the screen.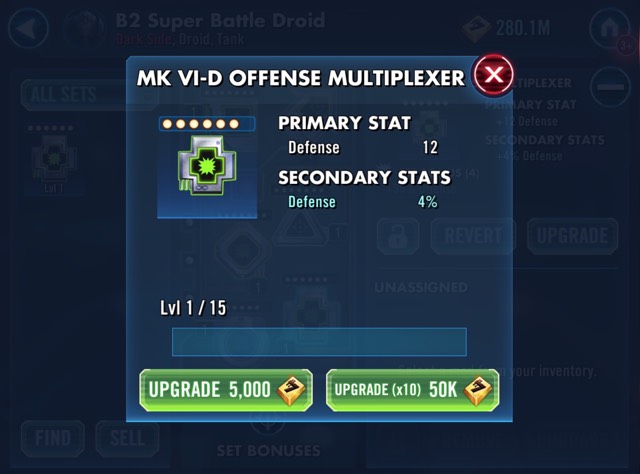 Once you're in the Mod Upgrade screen, select Upgrade and see the stats change on your Mod as it goes up in level!
Tip: The higher the level the more secondary stats you can unlock and the more benefit a Mod can give to a character!