2018-01-27
Electronic Arts
Before they assisted the Rebels in the destruction of the Death Star II in Star Wars™: Return of the Jedi™, before they saved Princess Leia from the Empire in Star Wars™: A New Hope™ and even before they even took ownership of the Millennium Falcon, Young Han Solo & Vandor Chewbacca were always able to find trouble.
In a time when the Galactic Empire reigned supreme and their iron grip extended to the farthest reaches of the galaxy, a Corellian and a Wookiee took fate into their own hands.
Get ready for Solo: A Star Wars Story, in theaters May 25th, by unlocking Young Han Solo & Vandor Chewbacca now through limited-time Marquee Events in Star Wars™: Galaxy of Heroes™.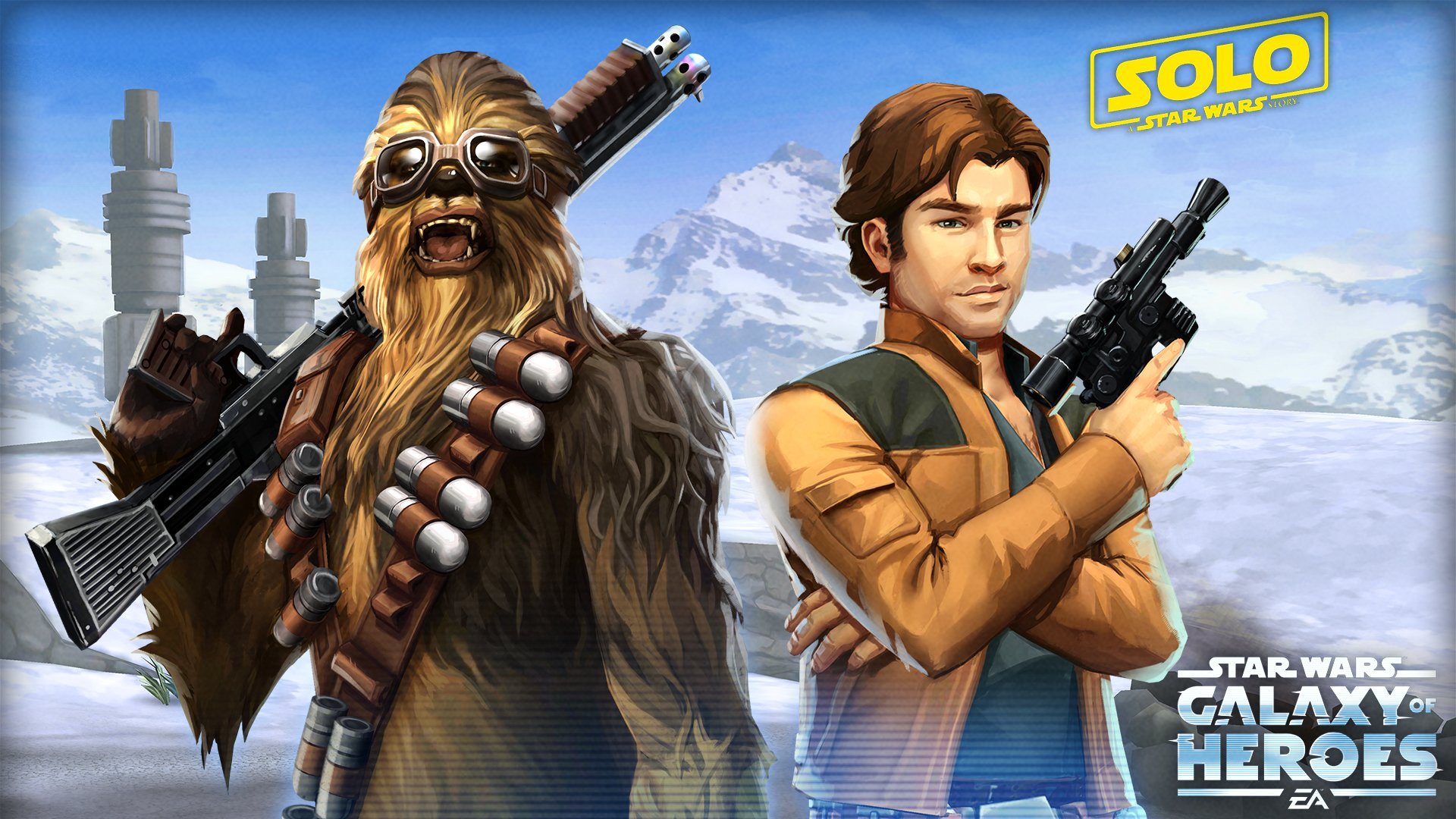 YOUNG HAN SOLO
While it's impossible to anticipate every contingency, having Han Solo in your party will help you to be prepared for the coming battle. As such this variant of Han introduces the new "Prepared" mechanic. It's a status effect that doesn't actually provide a buff by itself, but can either be expended for an effect, or is a prerequisite for certain abilities to get an additional bonus.
His basic attack is a surefire way to gain Prepared. From there he can pass on the status effect to an ally and then gain Prepared again to make his unique ability more potent.
Basic Ability: Trick Shot
FINAL TEXT: Deal Physical damage to target enemy and inflict Speed Down for 2 turns. Han becomes Prepared if target is below 50% Turn Meter.
Special Ability 1: Upper Hand (Cooldown 2)
FINAL TEXT: Han gains Protection Up (100%) and Retribution for 2 turns. Han also gains +50 Speed (stacking, max 200) for rest of the encounter.
Developer's note: Upper Hand increases Han's survivability with Protection Up. Retribution on Young Han also allows him to consistently become Prepared through attacking someone below 50% Turn Meter with Trick Shot. Players should use this ability as often as possible to ensure high damage output as well as Prepared generation.
Special Ability 2: Just In Time (Cooldown 3)
FINAL TEXT: Deal Physical damage to target enemy. This attack deals 25% more damage for each other Prepared ally. Target other ally recovers Protection equals to 50% of damage dealt.
Prepared: Target other ally becomes Prepared, and Han is no longer Prepared. Then, all Prepared allies gain Critical Damage Up for 1 turn. Han Recovers Protection equal to 50% of damage dealt.
Developer's Note: On top of the damage bonus Han can get from other Prepared allies while using this ability, he is able to help another ally become Prepared. Vandor Chewbacca is the ideal target because he could either be set up for a huge burst using his special ability "Freedom Fighter", or he could save it for revive in case Han is defeated.
Unique Ability: Ready For Anything
FINAL TEXT: When Han starts his turn with Protection Up, he gains +10% Offense (stacking) and +10% Critical Chance (stacking) until the end of the battle. While Prepared, Han has 70% Chance to Assist another Scoundrel ally's attack during their turn, limited once per turn.
VANDOR CHEWBACCA
As you may have guessed from reading Young Han Solo's abilities, Vandor Chewbacca has the potential to become massively powerful while he is "Prepared". He can't actually gain "Prepared" by himself, so it's highly recommended that Chewie be paired with Young Han, who can use Just In Time to transfer it to him.
Vandor Chewbacca is also one of the few characters to have two Unique abilities, and benefits greatly from Health Mods, granting extra damage on Berserk.
Basic Ability: Unchained
FINAL TEXT: Deal Physical damage to target enemy. If it's Chewbacca's turn, he also gains Advantage for 2 turns. This attack ignores Defense.
Special Ability 1: Freedom Fighter (Cooldown 4)
FINAL TEXT: Deal Physical damage to target enemy twice. This attack deals damage based on Chewbacca's Max Health instead of his Attack Damage. Target other ally Recovers Health equal to 50% of the damage dealt. Then, Chewbacca and target other ally gain Protection Up (30%) for 2 turns.
Prepared: This attack deals double damage. Chewbacca Recovers Health equal to 50% of the damage dealt. Reduce this ability's Cooldown by 2, and all Prepared allies gain Protection Up (30%) for 2 turns.
Developer's Note: With Chewbacca, we want to explore other ways for characters to interact with different stats in the game. Unlike other attacks that scale off Physical or Special Damage, this ability actually scales off Chewbacca's Max Health, making it effectively immune to effects that reduce a character's damage, such as Offense Up.
Unique Ability 1: The Beast
FINAL TEXT: Chewbacca has -25% Max Protection, but +75% Max Health. In addition, all enemies deal -25% damage while Chewbacca is buffed.
Unique Ability 2: Ferocious Protector
FINAL TEXT: While Chewbacca is buffed, he has +100% Counter Chance. At the end of each turn while Chewbacca is buffed, if any ally took damage from an attack that turn and Chewbacca didn't, Chewbacca recovers Protection equal to 10% of his Max Health, and other Scoundrel allies recover half of that amount. When Chewbacca recovers to Max Protection, he becomes Prepared. When another Light side Scoundrel ally is defeated, if Chewbacca is Prepared, Revive that ally at 60% Health, then Chewbacca is no longer Prepared.
Developer's Note: Vandor Chewbacca is designed as a "Pressure Tank", meaning that he does not have an active Taunt, but the risk of not attacking him is too high for enemies not to attack him. We want to show that Chewbacca is caring towards his allies, but can also be extremely dangerous towards his enemies.