2016-02-05
SimGuruDrake
Happy Sweet 16
The Sims franchise turns 16 today! Seriously! 16 years ago on February 4, the original The Sims was released. Since then the franchise has grown and grown, with The Sims 2, The Sims 3, and, of course, The Sims 4. We wanted to celebrate the 16th Anniversary of The Sims by adding some new content in a free* Update to The Sims 4.
The stuff available in this Update wasn't chosen randomly, either – fans who have been around since the first game might notice a common thread here. There's one specific thing chosen to represent each base game in the franchise!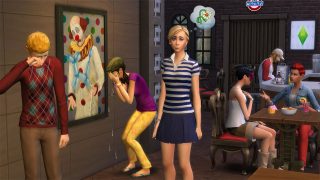 From The Sims, we're bringing an homage to the Tragic Clown by way of a painting of the sad fool. One look at it and your Sim will walk away with a "Tragic Clown is Tragic" Moodlet. If it makes your Sim sad, why look at it? Because sometimes everyone needs a good cry. But fear not – there's also a Plumbob Poster you can use to decorate your Sim's room. It doesn't do anything, but we hope that when you look at it, you're filled with happy feelings of llamas and grilled cheese.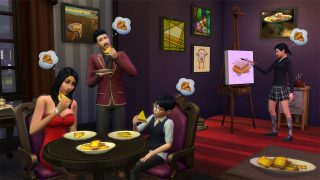 Speaking of grilled cheese, The Sims 2 fans likely remember the Grilled Cheese Aspiration, and we're happy to bring it to The Sims 4. If you want your Sim to have a (mildly unhealthy) obsession with Grilled Cheese, this is definitely the way to do it.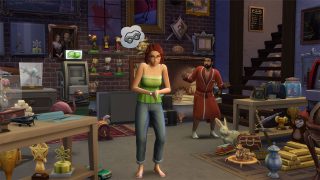 The… wait, did someone just steal your Sim's TV? Oh, it might be because they have the Kleptomaniac Trait from The Sims 3. Sims with this Trait can't help but swipe objects from their neighbors, or the Club, or… well, anywhere they go.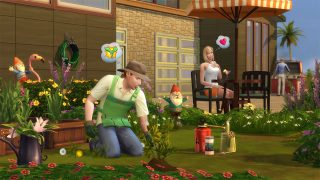 There's also an NPC coming back: the Gardener! With a phone call, the Gardener will come to your Sim's house and take care of their plants. We've had a lot of requests for this NPC to return, and we're really happy to include it as part of this Update.
It's all in-game starting today, and we really hope you enjoy this celebratory Update. Happy 16th Anniversary!
Looking to learn more about recent updates to The Sims 4? Check out the Jealousy Reaction System updates, and learn about the updates to the Holiday Celebration Pack.
Stay in the conversation! Follow us on Twitter and Instagram, Like us on Facebook, and Subscribe to our YouTube channel.
*REQUIRES INTERNET CONNECTION, THE SIMS 4 GAME (SOLD SEPARATELY) AND ALL GAME UPDATES TO PLAY.