2015-01-06
SimGuru Zera
For this Simmer Spotlight we are featuring longtime fan and "Let's Play" video maker – Black Essence.
· How long have you been a fan of The Sims?
I have been a devoted fan of The Sims for fourteen long and proud years. Though, I am a video game enthusiast and have played many mind-blowing games throughout my twenty-seven years on this earth, no other video game has been able to settle sweetly in my heart like The Sims. If every other video game were to disappear out of existence at this very moment, as long as The Sims remains, I would forever be content with that alone.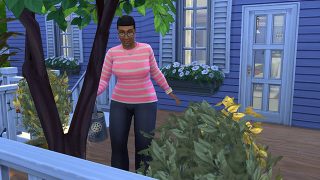 · What do you like most about The Sims 4?
The word rejuvenation would be the best way to explain The Sims 4 and what it's all about. This game, while staying true to its roots, reawakened a love and sense of wonderment that in my opinion, was the core charm of the franchise. What I like most about The Sims 4 is being able to emotionally and spiritually connect with my Sims. To be able to share in the many ups and downs of their little lives and to not just sit by and watch them go through their struggles and triumphs, but to actually help them through those situations in their lives. This is such a spiritual fulfillment for me and what makes The Sims such a special game. I honestly wouldn't want it to be anything else!
· What kinds of stories do you like to tell in The Sims and why?
I use a lot of different mediums when coming up with stories to tell through The Sims I love telling stories of Sims who were brought together by divine intervention. The Sims that I create are designed to show what real friends, couples, and marriages have to go through, including the trials and tribulations that can arise. I feel like my Sims teach me and educate me often and I hope others feel that way too!
· What do you like most about making "Let's Play" videos?
Making "Let's Play" videos is a joy in my life! I love being able to communicate my thoughts and things I have witnessed in my life through my Sims and sharing it with those that enjoy watching. Let's Plays are more than watching someone play a video game. Let's Plays bring like-minded individuals together because of the love and support they have for something they truly enjoy playing. I try my best to make sure my let's plays allow my viewers think, feel, and react to the many surprises life throws at us through different situations we sometimes face. No matter what, Let's Plays are amplifiers to things I love in my life.
· What advice would you give to someone just starting out making their own Sims videos?
I recently posted two videos on my YouTube channel talking about what it takes to make videos or Let's Plays with The Sims. The most crucial piece of advice I can give to those starting out is that you have to stay steadfast in what you are creating. Your videos should reflect who you are as a person. The amount of work you put into your videos is what speaks for you. Your personality is what brings in your audience. It can get emotionally hard sometimes, since people can be judgmental, but make sure you never give up on what you started. Do not let any negativity define what you feel for Sims and the stories you tell in your videos. There is no wrong or right way to express yourself in your videos. No matter what direction your Sims videos and channel takes you, remain humble. It's about quality, not quantity and having humility is what you want to shine the most in your work. Believe in yourself!
Have you made cool stuff in The Sims 4? Show us by using the hashtag #SimSpotlight and you could be featured next!
Stay in the conversation: Follow us on Twitter, Like us on Facebook and Subscribe to our YouTube channel.