Simmers, summer is in full swing, and we hope yours is going swimmingly. But before you power down and head to the beach, don't you want to read more about The Sims™ 4 Cats & Dogs Expansion Pack* which releases July 31, 2018 on Xbox One and PlayStation 4? Of course you do! Here are ten things we hope you'll love about this pack. We're also introducing some awesome updates for Xbox One players below.
Create-A-Breed
The Sims 4 Cats & Dogs has so many unique breeds, each of which look gorgeous and distinct. But, beyond standard breeds you'd expect, like Russian Blue or Akita, you can easily create adorable mixed breeds with just a few clicks. It's so easy to quickly craft the cat or dog you imagine. Did we mention adorable? Because they all are!
Painting the Pet
You can start by choosing a breed or crafting a mixed breed, but it's super simple to add the perfect touches to your buddy. Will it be a pink nose, a lighter shade of fur, or even purple spots? It's so easy to create pixel perfect creations or recreations of any dog or cat. Get ready for a pet paint palette you won't want to put down.
Love You, Bay
With this expansion, you'll get Brindleton Bay, a gorgeous seaside town designed with pets in mind. We made sure to create beautiful areas for a stroll with your pooch, including Pupperton Park, and cozy coastal spots like the Salty Paws Saloon. Whether you're discovering the romantic secrets of the lighthouse, chasing birds near the docks, or digging for rare finds at the pet cemetery (spooooky!), you'll have a lot of fun when taking your four-legged friend for a walk around the neighborhood.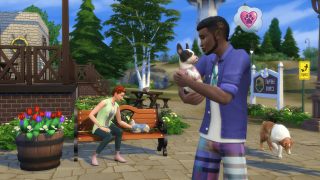 Valiant Vet
Owning a business in The Sims 4 is something our community loves, and we love to experiment with it! In Cats & Dogs, the Pawspital is where your pets can get diagnosed for anything that ails them. As with other businesses, optimizing the perfect staff will keep your customers – both two-legged and four-legged – happy. Plus, you can tweak the layout for your Sims' needs. This is a fantastic career, especially if your Sim can't get enough of felines and playing fetch.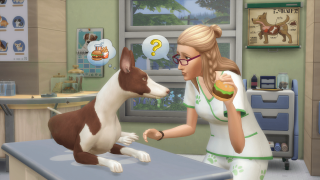 Pet Personalities
The traits are strong with this one. We spent months trying to understand the souls of cats and dogs and what our game would become. And, well, pets are unique creatures that make each of us delighted (or dumbfounded) in different ways. From stubborn and smart to playful and independent, traits truly change every pet's behavior. Beyond that, every pet has unique quirks that you'll have to discover yourself. Each pet you get will help your Sims tell a story.
Pet Costumes
This makes us smile so much. We wanted to add something entirely different for Create-a-Pet, and costumes filled that slot perfectly. They're hilarious, charming, and incredibly reminiscent of so many photos on the Internet. We cannot wait to see what horrors you put your pets through in the name of adorableness.
Inside Their Heads
To control or not control your pets? Pets are individuals, and many times, a perplexing puzzle to us humans. So, in your Sims' world, they'll be able to uncover who their dogs are and bond with them without knowing their next move. Sims can investigate their companion's behavior, and give them all the love they need. Oh, and if they're paying attention, they'll definitely know when pets need a bath or a visit to the vet. You'll have such a swell time peering into those cute little eyes while your Sims wonder what the heck Fido is thinking. Hint: It's probably belly rubs.
Surface-Level Felines
If you've ever had a cat, you know that they use every surface in the house as their own. It's that lovable behavior that drove us to create the most authentic cat experience possible – Sims style! You'll see your Sims' cats jump on the fridge for an aerial view and the counter to avoid the pesky dog, hide under the bed, leap onto the bed, and leap everywhere in between. The world is a cat's playground in The Sims 4 Cats & Dogs, just like real life.
All the Objects
Squeaky toys, cat feathers, laser pointers, and multiple cat condos abound. Don't forget about scratching posts, pet beds, litter boxes, and litter boxes with lasers. But wait, there's more! Create an epic obstacle course for your dog or watch how they perceive common household objects. There are so many ways to interact with your pets!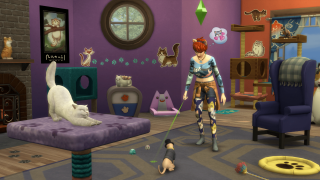 Cat on a Vacuum
Last but not least, let's get to the messy part. Cats and dogs can create mild chaos, like hairballs and hair and pee and poo. If you want an easier way to clean up that mess, we made your Sims an automatic household cleaning robot. But we didn't stop there. Your cat can ride the vacuum. In a shark costume. Aren't games fun?
Bonus: EA Access Updates
Simmers, we'd also like to announce that The Sims 4 is coming to Xbox One players with EA Access** on July 12, 2018!
If you're an EA Access member: Starting July 12, 2018, you can play all of The Sims 4 as long as your subscription remains active. Dive back into The Vault now with the latest addition of our ever-evolving library of great EA games.
If you're a Simmer interested in EA Access: As a member, you can save 10% on The Sims 4 extra content (Expansion Packs, Game Packs, and Stuff Packs) as well as on EA digital purchases on Xbox One (full games, DLC, and more). You'll also be able to play more games in The Vault, our library of games, and try the newest EA games before they release.
So, are you pupped for Cats & Dogs on console? Check out The Sims 4 Forums, follow us on Twitter and Instagram, like us on Facebook, and subscribe to our YouTube channel. Sign up for The Sims 4 newsletter to get updates, exclusive offers, and more (including other EA news, products, events, and promotions) by email and get Grim's Goulish Guitar for free!
*Requires The Sims 4 game on applicable platform (sold separately) and all game updates to play.
**Conditions, limitations and exclusions apply. See https://www.ea.com/ea-access/terms and https://www.ea.com/ea-access for details.