2015-03-31
SimGuruDave
It's Time to Get to Work!
Hooray! Our first expansion pack for The Sims 4 is now available in North America, and will be rolling out to the rest of the world in the coming days! In The Sims 4 Get to Work*, you can take control of your Sims' every action while they're on the job and determine whether they spend their days saving lives as a daring doctor, solving crimes as a fearless detective, crafting inventions as an eccentric scientist, or becoming a simoleonaire by creating their own retail business.
But that's not all you can do! We've gathered together a list of eight things that make the expansion pack stand out. Here are just a few of the amazing things you can do in The Sims 4 Get to Work.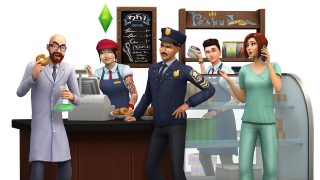 Play good cop/bad cop. Cracking the hard cases and finding the right clues can help your Sims become the Chief of Police someday. In the Detective career, your Sims can dissect a crime scene, dust for fingerprints, take clues to the crime lab, nab the suspected criminal, and take them back to the Police Station for questioning. How your Sim interrogates the perp is up to you – good cop or bad cop, the choice is yours.
Create breakthrough inventions. No one knows when inspiration will strike. Your Scientist Sim could be gardening when BAM! They have an idea for a new invention like the SimRay. Thanks to this breakthrough, your Sim has the ability to control the minds of other Sims in an instant, freeze surrounding Sims in ice, or to transform objects into almost anything they can envision!
Make the whole town fall asleep instantly. Despite what comic books have taught you, science isn't all about ray guns. Your budding Sim Scientist can tinker away with the Invention Constructor to create other amazing inventions, including a Satellite Dish. This creation detects aliens, decreases your Sims' chances of being abducted and gives your Sim the ability to launch a signal into space. And as particles rain down from the sky, all the Sims in sight instantly fall asleep. Science is awesome, isn't it?
Deliver new life. Your Sim can step into the career of a Doctor and work to hone their skills, making house calls and performing emergency surgery. You can even get a front row seat as your Sim brings baby Sims to their loving parents.
Create the business of your Sims' dreams. Watch the simoleons roll in as you build up and customize every facet of your Sims' business. From a bakery to a clothing boutique or an art gallery, your Sims can determine what items to sell, manage their employees as they see fit, and schmooze customers to close the ever important sale.
Explore new areas. Whether your Sim is saving lives at the Hospital, booking criminals at the Police Station, creating outstanding inventions at the Science Lab, or chatting up customers at their own business, you'll find a number of new places to explore. You can head to the new shopping neighborhood, Magnolia Promenade, and visit (or open) a store, or you could take a trip that's quite literally out of this world.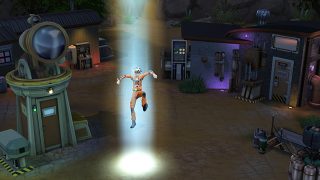 Take amazing pictures. Your Sims can do more than work in this expansion pack. They can try their hand at a new kind of art with the Photography skill, taking pictures and hanging them on the wall to impress their visitors. There are filters and selfies, too, letting your Sims really express themselves.
Learn to bake. Photography isn't the only new skill available – your Sims are also able to create new, delicious treats with the Baking skill, making wonderful cakes and pastries. Once they've created the sweets (or savories) of their dreams, they can choose from a variety of decoration options to finish them off. Of course, you're able to use both of these skills in the business world if you want to – there's nothing stopping you from creating your own bakery or photo studio.
So, ready to rule the workplace? We're really excited about this expansion, and can't wait to see the amazing creations you're going to make, and the wonderful stories you're going to tell.
---
Stay in the conversation! Follow us on Twitter, Like us on Facebook and Instagram, and Subscribe to our YouTube channel.
*REQUIRES THE SIMS 4 GAME (SOLD SEPARATELY).