Clubs, skills, and Windenburg. Need we say more? The SimsTM 4 Get Together Expansion Pack* is out now on Xbox One and PlayStation 4, and it's all about new ways to hang out with groups of Sims. That's why we built a visually-striking European-inspired location and robust features that will keep your Sims hanging out until the wee hours of the morning.
Windenburg is jam-packed with things to do and places to see, including three Special Venues, a new Venue type, and some changes to Nightclubs and Bars. Take a look at the places your Sims can explore.
The Von Haunt Estate
Windenburg's Von Haunt Estate is a historic and enchanted garden property that's been preserved as a famous museum and tourist attraction. Get lost in the enormous and perfectly-pruned hedge maze and even spark some romance with a fancy shindig. An important note: Don't be surprised if you run into the former Lord and Lady who used to live there – even after 100 years of being deceased, they're still around to entertain (and terrify) guests.
The Bluffs
This secluded island is a picturesque location that's ideal for a group of Sims who want a getaway with no distractions. Your Sims can cozy up around the bonfire or compare their best Fire Dance moves. Then they can take a dip in the natural pool, and if they're really patient, just might catch a glimpse of Windenburg's elusive sea monster.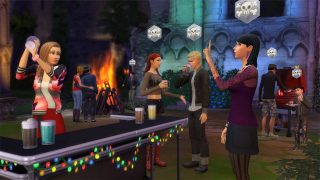 The Ancient Ruins
If you're looking for a dance party. . . This. Is. The. Place. By day, it's a serene and preserved area for the locals to take in, appreciate, and explore. But by night, the towering walls are the perfect backdrop for DIY stage lights, fog, and laser beams that emit from the DJ booth. Plus, it's got a small buildable lot by the party area in case you want to throw in some helpful or fun objects.
The Café Venue
If your Sims need a caffeine jolt, head to the Café Venue. The new Barista NPC and Espresso Machine are at your service to whip up favorite frothy beverages and flaky pastries. Wow, we could really go for a croissant right now! Pro tip: Your Sim can always order a morning shot that'll put them in the perfect mood to go to work.
Community Pool Venue
With the Pool Venue type, The Sims 4 Get Together shines best with the fun objects we made specific to this pack. We added a slew of cool community and natural pool decorations like lanes, trims, and a handful of different pool water colors so you can spruce it up. And with the Jumping Platform, Sims will get the height they need to impress their friends with a flawless backflip, or endure a humiliating belly flop. Ouch, that stings.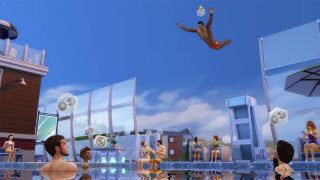 Nightclub and Bar Changes
Experience what makes Windenburg feel unique by visiting European-inspired Discotheques and quaint Pubs. We've added a bunch of fun games like Darts, Foosball, and Don't Wake the Llama to bolster the community vibe. There are even themed nights almost every day of the week, so your Sim and their friends might find themselves in the midst of Ladies' Night (or Knight Night).
Speaking of nightlife, The Sims 4 Get Together brings with it two awesome new Skills: DJ and Dancing.
Drop a Beat
Similar to other Skills, the higher the level of your Sim's Dancing and DJ Skills, the more powerful and bigger the performance. The DJ Skill starts off with Sims learning the basics of pumping up the crowd. But the more they work, and the harder they party, the better they'll get. From making mixtapes to controlling the emotions of the room with the Feel the Crowd ability, the DJ Skill is an absolute must-have for anyone who wants to take over the room and turn the party up to 11. One of the advanced abilities is called Teleplosion – once your DJ has added it to their DJ Booth, the DJ can activate it to take over TVs in the room for the ultimate performance. Trust us when we say, it's electrifying!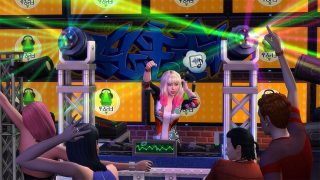 Bust a Move
Sims can already dance in The Sims 4, of course, but the addition of the Skill in The Sims 4 Get Together brings it to a whole 'nother level. While there are obvious upgrades, like being able to do cooler and better dances, there are also some more impressive feats – Sims with the Dancing skill can do a Fire Dance at the Bonfire. There's also a Dance Floor object, where Sims can show off more moves and initiate Dance Battles. You can even demonstrate your group's skills with the ability to initiate a Group Dance, displaying some synchronized swagger. Needless to say, some Sims are about get served.
We hope you liked this peek into the world of The Sims 4 Get Together Expansion Pack, which is available on PlayStation4 and Xbox One right now! We can't wait to see how your Sims enjoy Windenburg and the new Skills. Check out The Sims 4 Forums, follow us on Twitter and Instagram, like us on Facebook, and subscribe to our YouTube channel. Sign up for The Sims 4 newsletter to get updates, exclusive offers, and more (including other EA news, products, events, and promotions) by email!
*Requires The Sims 4 game on applicable platform (sold separately) and all game updates to play.