Vacations are times to relax, unwind, and reflect. With The Sims™ 4 Outdoor Retreat* and The Sims™ 4 Jungle Adventure* out today on PlayStation 4 and Xbox One, your Sims can do just that in so many ways. But, if you're like us, in the back of your mind you may want to troll your otherwise-relaxed digital buddies. After all, isn't that what Sims are for? Here are some surefire ways to irk your Sims while they're supposed to be enjoying their trips in the wilderness.
Outdoor Retreat
When your Sims are gathered around the campfire, they can make new friendships, bond with old buddies, and even roast weenies. But when the sun goes down, you can gear up for some interesting storytelling. If a Sim tells a ghost story after 7 p.m., an actual ghost can show up! If any of your Sims get particularly spooked, this will be the perfect way to send them into a panic.
If your Sims actually enjoy the company of ghosts, there's more "fun" to be had when the sun comes up. In this pack, eating every type of toxic plant will give your Sim an actual Achievement! If, to you, achievement means some possibly uncomfortable side effects, then you've done your job.
Speaking of uncomfortable, how about acquiring the squeamish trait for your Sim, where they'll get nauseous at the sight of vomiting, insects, and generally dirty environments. Gross for them, entertaining for you!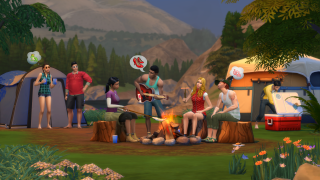 Jungle Adventure
Annoying Sims in Selvadorada is almost too easy. While out on a tropical escapade, Sims can get pretty grimy. Without proper hygiene, your Sim will develop an awful mood, making their time away from home less than blissful. There is a "waterfall in a bottle" one can purchase from the cantina before striking out on the tropical trail, but this is an article about annoying Sims, remember?
At the Selvadorada market, a machete is one of the most important tools to buy. Sims can cut through thick vines and explore unknown places. But what will Sims do without that trusty machete? Use their hands, of course! Which means that, after a while, they'll be scraped up real good and likely in a foul mood . . . again.
Yet another item available at the cantina is insect repellant. This handy antidote is very necessary when in the dense, humid jungle. But, alas, you simply "forgot" to get some for your Sim. So, let the inflammation ensue. Healthy Sim skin beware, because this bug's for you.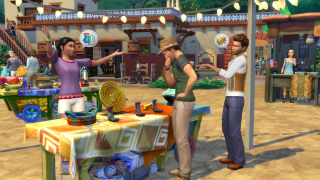 Take your Sims camping in Granite Falls with The Sims 4 Outdoor Retreat and have a mysterious adventure in Selvadorada with The Sims 4 Jungle Adventure! Both packs release today, December 4, 2018, on PlayStation 4 and Xbox One.
And while you're at it, check out The Sims 4 Forums, follow us on Twitter and Instagram, like us on Facebook, and subscribe to our YouTube channel for all of the latest. Sign up for The Sims 4 newsletter to get updates, exclusive offers, and more (including other EA news, products, events, and promotions) by email!
*Requires The Sims 4 game (sold separately) and all game updates to play. See minimum system requirements for this pack.