2016-02-25
Guest Blogger Deligracy
The Perfect Outdoor Oasis
If you've opened up the Gallery, you've likely seen some amazing creations, from absurd mansions to mind-bending homes. And we often see the same question: how do they do that?! That's what inspired us to invite members of the community to teach you how they build the amazing things you can find on the Gallery.
Today, we wanted to show off ways to upgrade and improve your Sim's outdoor patio! We invited popular builder Deligracy to write up some tips on creating a beautiful outdoor patio in The Sims 4. Below is her guide*.
Hello! I'm going to teach you how to make a beautiful outdoor patio adorned with cascading greenery. It's a little bit fancy and uses some stuff from The Sims 4 Romantic Garden Stuff Pack**!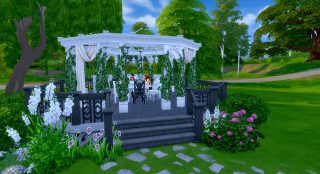 When creating any kind of build I always aim to be experimental in order to come up with a unique outcome. For this patio, I make use of the "Move Objects cheat" which allows me to overlap and intersect objects. You'll need to turn this on before we start. Turn it on by typing ctrl-shift-c, then entering "bb.moveobjects". Press enter.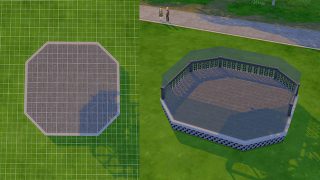 Step One: Start to create the shape. Make an Octagonal shape to this size an increase the foundation to a suitable height. Add flooring with an outdoorsy feel, as well as fencing. It's good to match the colors of these. Finally pop in some stairs at the front with a width of two steps.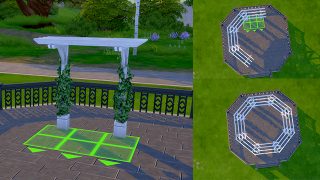 Step Two: Grab an awning. I like this awning from The Sims 4 Get Together Expansion Pack. Repeat the awning to create another Octagonal shape (use the '>' keys to rotate) with the columns facing outwards, we want our space to be as big as possible!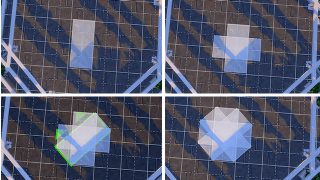 Step Three: Start creating the interior. Use a glass table and again, repeat the table to create an Octagonal shape. Glass works best or dark colors to ensure there is no visual glitches during gameplay. This allows us to create a rounded table for Sims to eat at! This technique works well with coffee tables too.
Step Four: Decorate with chairs. To add a little of the vintage trend, I'm picking a selection of mismatched chairs. Place these around your table, they will snap to the tables as you place them.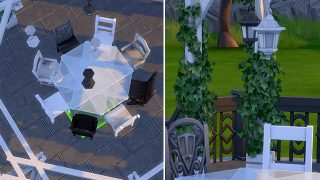 Step Five: Light it up. It's all about the hanging lights! Place your favorite hanging lights over the table, I promise this will look amazing at the end! You can change the colors of them during live mode to create a beautiful ambience at night fall.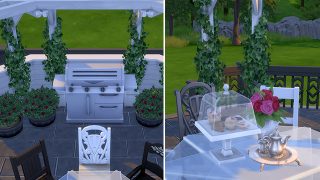 Step Six: Decorate the rest! I'm adding a BBQ and planters, as well as the base game vintage tea set, flowers and some yummy treats, this patio is going to be great for entertaining. Skill building objects such as an easel, chess table and yoga mat could work too depending on what you want to use it for.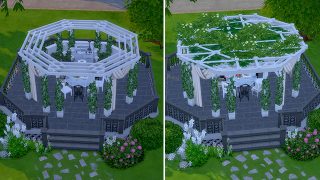 Step Seven: Bring it all together. Turn your grid on and move up a level. Draw the low fencing in any pattern over your placed awnings. Delete any floor tiles, then adorn the top of the patio with shrubbery. I personally like to size up a base game shrub using the bracket key (]) to cover my patios.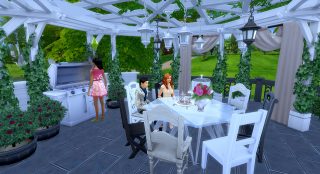 Step Eight: Add the final details. Ta-dah! Here is a gorgeous, vine-covered patio with hanging lights. I added some draped curtains from the Movie Hangout Stuff Pack, just to be a little fancier!
If you want to see the process of creating this patio, checkout the video on my YouTube channel: I have tons of other house builds, game play and tutorials there too. You can also find me on Instagram and Twitter @deligracy.
Want to learn more about The Sims 4? Check out tips on building a great office, and learn how to make an amazing bathroom in The Sims 4.
Stay in the conversation! Follow us on Twitter and Instagram, Like us on Facebook, and Subscribe to our YouTube channel.
*Images in this blog may include content from different The Sims 4 game, The Sims 4 stuff packs, expansion packs, and game packs. All packs require The Sims 4 game (sold separately) and all game updates to play.
**REQUIRES THE SIMS 4 GAME (SOLD SEPARATELY) AND ALL GAME UPDATES TO PLAY.