2015-04-10
SimGuruCoop
Heading to the Store?
We're consistently impressed by the awesome buildings Simmers are able to create. Even though we've built the tools, it's always awe-inspiring what you're able to do with them, and with the release of The Sims 4 Get to Work, we saw some incredible new creations. Players used the new objects and decorations to create amazing buildings. Today, we are taking a look at some stores, designed to take advantage of the new retail system.
Haven't built any of your own? Looking for some stores to take your Sims to on their days off? Here are a handful of great lots you can download to your game for free from The Gallery, which you can access in-game, on the web, and via your mobile device (iOS and Android) right now!
If you're looking to put your Sim's new Baking skill to good use, you can check out Café & Bakery by flubber32c4. As the name implies, it's a perfectly tiny little bakery, with some nice outdoor seating for when your employees want to take a load off.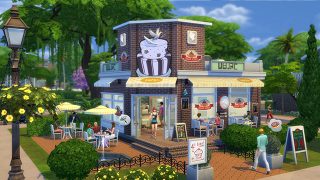 On the opposite side of the size spectrum is MafiPrince's Prince Center, which is more akin to a shopping mall than a regular "store". Inside are a number of different shops, each selling totally different things. Want video games? Donuts? Toys? Shiny rocks? There's a spot for each in Prince Center.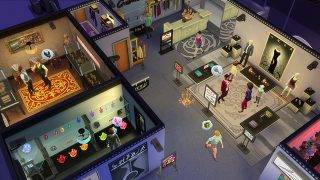 Greenismeen's Bottlebrush Wharf sits somewhere between the other two in terms of size. Despite being on a rather quant 40x30 lot, the Warf has a number of little shops inside it where you're able to buy clothing, lounge around, or pick up a variety of foods at the bakery. More than a shop, Bottlebrush Wharf is a day trip.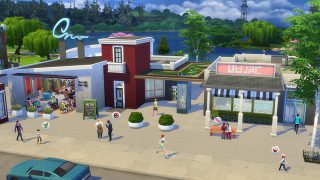 Little Designer's Shop, created by pavlaprovaz, is a great place to find fashionable furniture. It's a fun, colourful venue, with an empty second floor – perfect for storage while you're waiting for your downstairs stock to sell!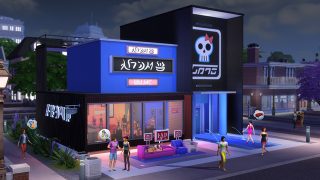 There are plenty of others to check out, too. There's the cool Photo Studio from our trailers, and hundreds of others to check out on The Gallery. Have you built any cool retail stores in The Sims 4 Get to Work? If so let us know! We're always on the lookout for new exciting places to visit!
Stay in the conversation! Follow us on Twitter and Instagram, Like us on Facebook, and Subscribe to our YouTube channel.
*REQUIRES THE SIMS 4 GAME (SOLD SEPARATELY).