The Sims™ 4 Seasons Expansion Pack* is now on Xbox One and PlayStation 4! It's a true game-changer, and we're so excited to see what you'll create and what stories you'll tell. Here's a quick overview of what to expect from this pack and how it will change your gameplay (for the better!).
First, Dates
Let's kick it off with calendars since this is a whole new way to organize your Sims' lives! You'll be able to see all upcoming holidays, and each has traditions to complete. The more traditions your Sim finishes, the happier they'll be during that holiday. You'll also see your Sim's household schedule, including when they have to go to work. Plus, check out the forecast so Sims can plan on bundling up or cooling off. Sims' birthdays will be featured, too, so get excited to party.
Spring
Springtime means puddles, mud, drizzle, and thunderstorms. When it starts to rain, arm Sims with umbrellas and rain boots. Remember, thunderstorms tend to make Sims very tense. Make sure to check the weather forecast before planning that backyard barbecue.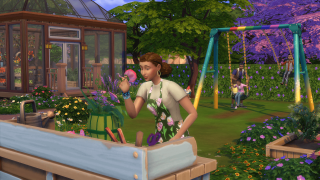 Summer
Break out the iced tea and build an awesome pool, because summer heat will arrive in your Sims' world faster than you can say "cannonball." Little ones will love splashing around in the new toddler pool, too. Pro tip: When the temperature rises, make sure to change Sims into their summer outfits or they'll risk overheating.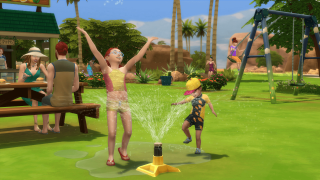 Fall
Let the sweater weather begin! Harvestfest comes in the fall, where Sims gather their closest friends and family to celebrate gratitude with the grand meal. Decorate Sims' homes for this special day, pass the hors d'oeuvres, bake a stupendous dessert, and celebrate with the whole family.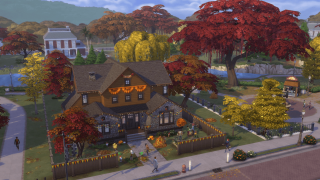 Winter
Did you see that flurry of snow? It must be time for the most heartwarming holiday of them all – Winterfest. Grab the holiday pack to kickstart your home decorating, because it's about to get festive. Your Sims can give gifts, spark the fireplace, and watch as Father Winter pays a visit! Don't forget to bundle up your Sims with hats, coats, and gloves, or they may pay the ultimate price. Brrrrr. (Cue dramatic music.) But, you know what's not dramatic? Ice skating! Build the skating rink for some snowy fun and your Sims can learn sweet spins and tricks.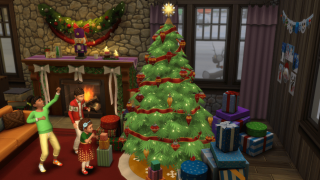 Fall for The Sims Mobile
We'd also like to announce that The Sims Mobile will be celebrating Harvestfest from November 15 – 21, 2018! During the Live Event, you can earn pie slices to get fall-themed clothing and special objects like the Sparkling Apple Juice Press and Horseshoe Throwing station.
Change your Sims' lives forever with weather and so much more in The Sims 4 Seasons and The Sims Mobile.
Check out The Sims 4 Forums, follow us on Twitter and Instagram, like us on Facebook, and subscribe to our YouTube channel. Sign up for The Sims 4 newsletter to get updates, exclusive offers, and more (including other EA news, products, events, and promotions) by email!
*Requires The Sims 4 game on applicable platform (sold separately) and all game updates to play.