2014-10-22
SimGuru Houts
We love all the cool stuff that our fans make in The Sims 4, and we want to highlight some of the craziest creations! Each Simmer Spotlight will feature someone making awesome stuff in the game with a few tips on how to make your own.
First up is Ian Roach. You may have seen his creations from The Sims 4. I asked him a few questions about some of the amazing stuff he has been building.
• What inspired you to start building TV show sets?
It started with the CAS Demo. Once I had created all of my family and friends, I needed a new challenge, so I started recreating characters from my favorite TV shows. Once the game was released, the obvious next step was to build their TV homes.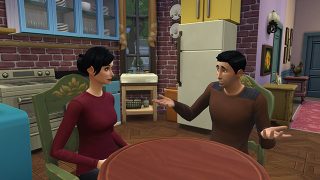 • What's your favorite thing about the new Build Mode?
Overall, I find the building process a lot more intuitive. Everything is right at my fingertips! Build and Buy are integrated, recolors appear right above object and I can spend more time building and less time navigating through menus. Specifically, I love the free-form wall placement - it was a big help in recreating the sets accurately.
• What tips do you have for building in The Sims 4?
Think outside the box. If you are trying to recreate a real-life space, you will definitely come across challenges where you aren't finding what you need in the library. Consider what you could use instead to achieve a similar result. For example, some cast members from a famous 90s sitcom have a dart board in their apartment. I didn't have one available, so I used the 'grow object' cheat on a wall clock and used that instead.
• How long does each build take you?
Obviously, it depends on size. My two biggest builds have been the set of 'Friends' and 'Downton Abbey'. I tend to lose track of time while I'm working, so it's hard to say - but those probably took 3 evenings each.
• If you could spend a day living in one of the places you built, which one would it be?
Probably Downton Abbey - because when else will I get to sleep in castle? However, if I get to live with the TV characters too, it's The Golden Girls. No question.
You can see more of Ian's creations by checking out his Imgur account or find his creations in-game in the gallery under Origin ID ian8000.
Have you made cool stuff in The Sims 4? Show us on our social channels using the hashtag #SimSpotlight and you could be featured next!