2017-02-17
SimGuru Drake
We love how the Simmer Community takes the in-game challenges and turns them into friendly community competitions! SimGuru Drake sat down to chat with community member Aureylian, a Twitch streamer who teams up with fellow YouTube & Twitch creators for some fun in-game competition.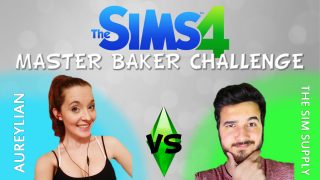 Tell us a little about yourself!
I've been playing The Sims (TM) since 2001, but I started my career in gaming as a personality/content creator in 2012, and currently work full time as the Lead Community Manager at Twitch. I still frequently play The Sims on my Twitch channel (both live and through uploaded VODs), but most of the content I produce is a bit different. Currently I'm working on a series where we let the Sims run completely on auto-pilot and just see what drama they get in to (and it's surprisingly interesting every episode)! You can find all my challenge videos on Twitch, and a backlog of old Sims Let's Plays on YouTube.
What inspired you to start your challenge collaboration videos?
I love doing collaborative videos. Being able to game with my friends is always preferred, and I wanted to find a way to merge my desire to play with friends with my love of The Sims. I had to figure out a way for us to be able to play together, while actually playing completely separately, and being able to challenge each other seemed like the best way to do that.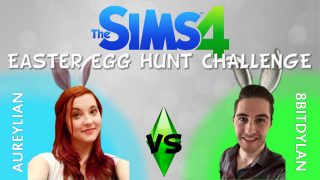 What challenge has been your favorite and why?
There's been a few! The Death Challenge (where we tried to see who could get our Sims to die first, without relying on trapping them in a room, or old age) was great because Jordan (CaptainSparklez) had never actually played before. Seeing his reactions, and his subsequent win by peeing in front of everyone at the gym and literally getting embarrassed to death) was pretty great. The Woo-Hoo challenge (to see who would woo-hoo the most people in 30 minutes) with OMGitsFirefoxx was also great, because I accidentally woo-hoo'ed someone to death for the first time. I also had construction workers working on my house, and they were hearing me in my office yell things like "I WOO-HOO'ED ANOTHER GUY!" and "OH MY GOD I KILLED HIM!" to the point where my mom came into my office and said they were starting to laugh really loudly at me.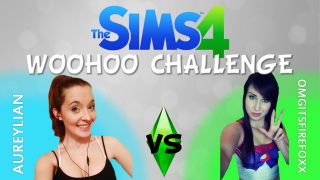 What tips would you give to someone looking to start streaming The Sims 4 on Twitch?
I'd say other than the standard "consistency" and "be yourself" rules of thumb, it's really important to do something that you enjoy, that also separates you from everyone else. Are you doing a solid LP? Maybe come up with a theme, or start making Sims based off of your viewers. Find a way to get people involved in what you're doing – interaction is the best part of gaming on Twitch, and it's also a really good way to get people to keep coming back to your stream.
Have you made cool stuff in The Sims 4? Show us by using the hashtag #SimmerSpotlight and you could be featured next! Stay in the conversation! Follow us on Twitter and Instagram, Like us on Facebook, and Subscribe to our YouTube channel.