Get Cool, Calm, and Connected
Self-care. Whether you've heard about it, consider it your personal lifestyle, or think it's a bunch of bologna, there's no denying its permeation into our everyday culture. It could mean a bubble bath, meditation, or any way to take care of yourself. And now, your Sims can get in on the (soothing) action. That's right, The Sims™ 4 Spa Day Game Pack* releases today on PlayStation 4 and Xbox One. Get ready for massages, cucumber slices, and more smoothies than your Sims will know what to do with.

Speaking of what to do, check out five features of this pack below.
1. You can make your own spa.
First, for all you builders out there, you hold the keys to making an amazing spa of your own. All mud baths all the time? What about a steam-filled sauna maze? A torture chamber of yoga classes for your laziest Sim? The power is in your hands, Simmer. Muahahaha!
2. Sims can have a Wellness Skill.
Practicing yoga, giving massages, and meditating all improve your Sim's Wellness Skill. The higher the Wellness Skill, the better they'll be at striking those yoga poses and giving fantastic massages. They'll even be able to make new recipes with special benefits!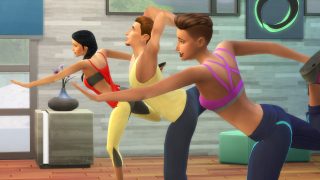 3. Meditation masters earn higher powers.
Ever notice that people who meditate just seem a little more . . . uplifted? Like, supernaturally uplifted? Sims who continue to work up their Wellness Skill with meditation become capable of levitation and, eventually, teleportation. Seriously, why can't this be real life?
4. Mud baths are now a thing.
Kinda relaxing? Yes. Kinda gross? Definitely. If your Sim is looking for a different form of relaxation, try a mud bath or even a soak. Laying in the mud can give your Sim a Confident moodlet, while soaks can have different results. The Rose Garden Scent will leave them Flirty, the Baby Soft Skin soak is all about Happy, and other soaks can negate negative buffs caused by being Sad or Angry. Yep, watch the moodlet magic happen right before your eyes.
5. Your Sims can WooHoo (or die!) in the sauna.
No spa would be complete without something steamy. In this pack, saunas are more than just a place to unwind. When two amorous Sims are alone in the room, there's a special WooHoo only available with the sauna. But, it's not all fun and games – your Sim might meet their end if they spend too much time getting a superfluous steaming. Now, that's hot.
6. Bonus!
We didn't forget about your most faaabulous Sims, who can enjoy stylishly casual loungewear and effortless hairstyles. Get ready to get noticed in these fashionable additions.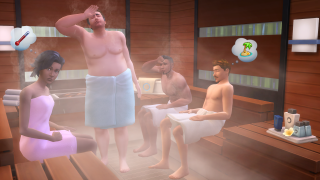 Mouse and Keyboard Updates
You know what else is relaxing? Knowing you can now use any mouse and keyboard that PlayStation 4 and Xbox One support! Here are some details:
Most USB devices will work
Mouse sensitivity and switching to left-handed play controlled by the PlayStation 4 and Xbox One settings. To adjust your mouse settings on your console follow the steps below (this is also in the patch notes):
PlayStation 4, go to Settings > Devices > Mouse
Xbox One, go to Settings > Kinect & Devices > Mouse
You will need your controller on the "Press A/X to Start" screen, but once you get to the Main Menu, you can start using the mouse and keyboard
To use a mouse and keyboard, there is no setting to change – just press any key on the keyboard or click a mouse button and it'll switch, and press a button on the controller to switch back
You can adjust camera speed for the mouse in the Options Menu
Ready to get zen and use your favorite hardware? The Sims 4 Spa Day is available now on PlayStation 4 and Xbox One. Also, check out The Sims 4 Forums, follow us on Twitter and Instagram, like us on Facebook, and subscribe to our YouTube channel for all of the latest. Sign up for The Sims 4 newsletter to get updates, exclusive offers, and more (including other EA news, products, events, and promotions) by email!
*Requires The Sims 4 on applicable platform (sold separately) and all game updates to play. See minimum system requirements for this pack.