2015-05-04
SimGuruCoop
Intergalactic Fashion Show
A long, long time ago (last October) in a galaxy far, far away (on this blog) we revealed that Star Wars™ costumes would be added to The Sims 4. And today, on May 4th – Star Wars Day – we wanted to celebrate by adding even more Star Wars to your Sims experience in a new Update!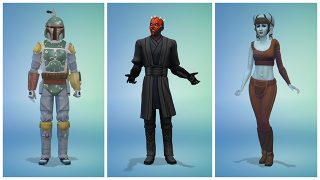 The Update includes three new Star Wars costumes for all players of The Sims 4. Now, your Sim can dress like Star Wars Episode I: The Phantom Menace's Darth Maul, bounty hunter extraordinaire Boba Fett, and Jedi Master Aayla Secura.
These costumes join the four that were added last year, which let your Sims dress up as Princess Leia, don a Darth Vader costume, wear a Rebel Flight Suit, or even have a child Sim dress up as Yoda.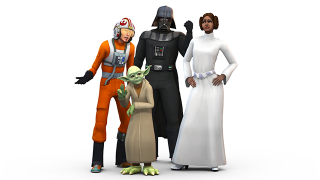 It might not be Halloween yet, but that doesn't mean you can't throw awesome Star Wars-themed parties in The Sims 4! Just be sure to keep the Sim dressed like Darth Vader away from the Sim dressed like Darth Maul – we don't want to fall into any plot holes, here. Happy Star Wars day everyone!
Haven't picked up The Sims 4 Get to Work* yet? Read about 8 Things You Can Do in The Sims 4 Get to Work, or check out 8 Photography Tips.
Stay in the conversation! Follow us on Twitter and Instagram, Like us on Facebook, and Subscribe to our YouTube channel.
Star Wars © & ™ 2015 Lucasfilm Ltd. All rights reserved.
*REQUIRES THE SIMS 4 GAME (SOLD SEPARATELY).