2015-06-19
Guest Blogger Pammiechick
Tell a Story
Sims players tell amazing stories with their games, and we thought there's no better place to highlight them than on The Sims official blog. A few months back, we highlighted Cathy Tea, and now we're featuring a story by Pammiechick. The story takes place over a number of posts in this Forum thread, but below is an excerpt of the first act.
The Amazon Challenge
I've plunged into the Amazon challenge and it's been so much fun! To start out, you need a creator – basically, the leader – a queen of the tribe.
Here is mine – Abra Wahine. Notice her necklace – that will be handed down to each creator as well as her bracelet.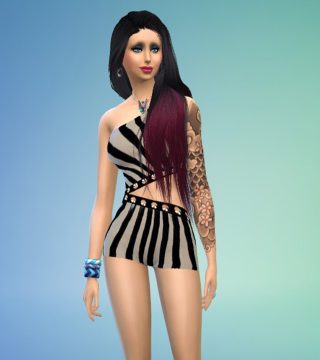 This is her with her two Servants – Akamu Servant and Anakoni Servant.
This is the beginning compound – the amazon's complex where only women live.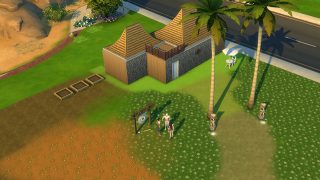 Pit of Death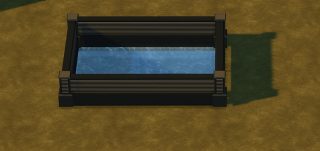 The boys weren't working, so Abra, my creator, had to punish them by yelling. It worked!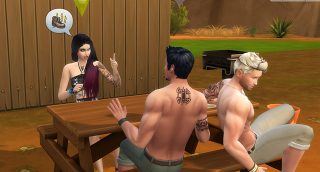 When it's time to breed, Abra does a ceremony with the chosen Servant. Little does he know this will seal his doom. When I first read the rules, I thought breeding Servants had to be terminated after breeding, but this is not the case. I didn't realize this until much later... unfortunate! But I'd have to excommunicate the breeding Servants anyway. You don't want everyone related to each other nor do you want your women to become attached.


Here, Abra finds out she's pregnant. She has mixed emotions because she must inform Akamu that it's his time to sacrifice himself for his tribe.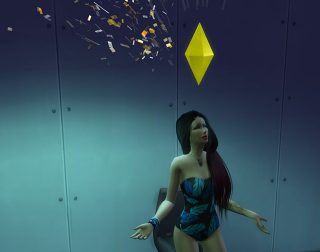 She's breaking the news to Akamu. So sad! But she's a strong amazon and knows what's good for her tribe.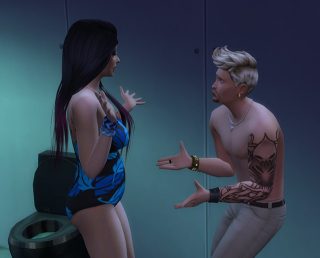 Akamu is shaved and painted and given his last meal at night. When dawn breaks, he will be sacrificed.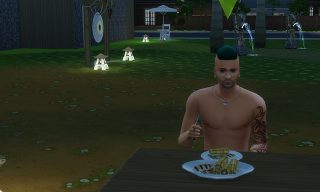 Sacrificing ceremony. Akamu was a good Servant, so he receives the rights of an honorable death.
Akamu was very strong – he lasted all day until the middle of the night. My other Servants went much quicker. He really was my best Servant. I miss him!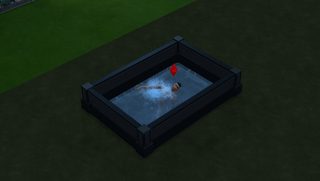 For some reason, Grimmy wanted to have a discussion about Abra's unusual death practices. And he didn't wait until she was decent! She made her case for her culture, he pecked out a few notes on his iPad, and misted away.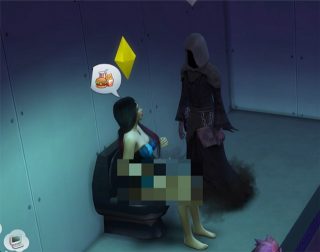 "Sorry, Grimmy, we're not like other sims who have burgers and fries! We eat off the land."
Time passed and the work was too much for Abra. She wasn't making much money at her job and she was down one Servant. She needed a woman! Someone who could tend the garden, fish, and hunt for treasure.
This is Adda Green, her gatherer. I decided to make the other tribeswomen have their own surnames so we could keep up with which child was attached to which woman. All outfits will have green in them for my gatherers.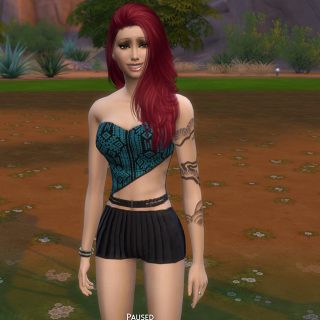 Adda is formally sworn in and ready to work!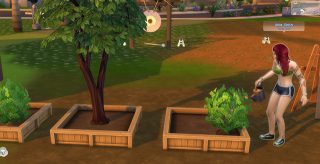 Later, Akamu visits the creator. They share a special closeness. It's good for the clan that he leaves. Abra thinks about banishing his spirit, but can't bring herself to do it. She doesn't tell her gatherer, Adda, about her attachment. This could spell trouble in her tribe down the road.
The full story can be found here, along with plenty of additional screenshots of the Amazon Challenge.
Interested in other Simmers? Read about how Cinderellimouse made THAT dress in The Sims 4, and find out why Ian Roach started building TV show sets.
Stay in the conversation! Follow us on Twitter and Instagram, Like us on Facebook, and Subscribe to our YouTube channel.