2014-11-04
Nicole Rauschnot/Shannon Copur
Hey Party People!!
I'm very excited to announce that we have just released a new, free update to The Sims 4. You're invited to dive right in today! POOLS!!! OMG!!! ☺
One of the aspects of pools in The Sims 4 that I'm personally very excited about is the new way to build. For months now, we've been talking with you about Build mode and just how easy it is to create homes. All that great technology has now been applied to pools, making pool building faster and easier than ever before.
First off, we have diagonal pool building! Many of you have asked for this so we're happy it will now be included in The Sims 4 after you update your game.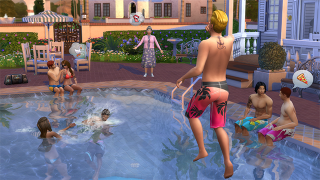 I've always longed to recreate those visually dramatic pools that are often seen at exotic resorts. Now, players can place windows on the walls of pools to create an infinity-pool aquatic escape for your Sims. And we've also added the ability to adjust the depth of your pools by adjusting wall heights.
Rooftop pools! Yes, in The Sims 4 you can now build pools on the ground level, on the second floor and even on the roof!
Check out this awesome rooftop pool we made here in the studio: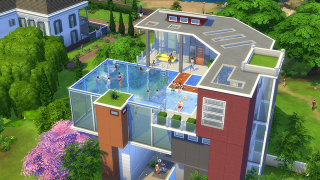 But what about your Sims? They need awesome poolside outfits. Check out the new line of swimwear in Create A Sim! You can mix and match swimwear pieces or try out the "Swimwear" Styled Looks for today's hottest trends. Now your Sims can really dress the part before taking a dip.
Your Sims don't have to swim, they can sit along the pool ledge and chat with other Sims who are in the pool or snuggle close to a loved one. Spectators beware – they could be subject to some splashing from the other Sims in the pool. Watch out for that angry Sim who is cooling his temper by swimming around.
Of course pools would not be pools without a new death type. Yup, our old favorite, Death by Drowning is back! And you will see that the resulting ghost may be a little more wary of water than before. ☺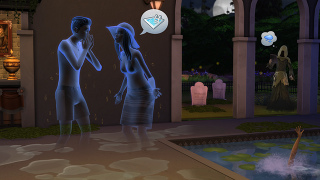 Now, I don't want to spoil all of the surprises that await with this update (because there are more!) so I'll leave you to experience pools for yourself in true The Sims 4 style. To take a peek at all that is included with this game update, read our patch notes here. To get the update, simply login to Origin* and launch The Sims 4.
Please share your pool creations with me on the Gallery and Twitter (@SimGuruShannon). And, if you have any questions or want to learn more about pools, visit the Forum Q&A here.
Stay in the conversation: Follow us on Twitter, Like us on Facebook and Subscribe to our YouTube channel.
*We recommend that "auto-update" is enabled in your options.