&nbsp
Two of the UFC's most talented prospects are ready to go straight to the top in EA SPORTS UFC 3. College wrestling stud Curtis Blaydes and undefeated women's Bantamweight contender Ketlen Vieira have been added to the roster, presenting their opponents with a whole new set of challenges within their respective divisions. It's up to you to determine how these promising fighters reach the next level.
See the full UFC 3 Gameplay Update #6
New Fighters
Curtis Blaydes – Wrestlers who make the move to MMA have a great foundation to build their careers on, and Curtis "Razor" Blaydes is no exception. In 2012, Blaydes won the NJCAA National Championship while attending Harper College as a Heavyweight wrestler, proof that he was more than ready for a run at the UFC. Blaydes would compile a 5-0 Win/Loss record on the pro circuit before he received an offer to make his UFC debut against the powerful Francis Ngannou, a result that would not go Blaydes' way. Despite this difficult first fight, Blaydes hasn't suffered a loss in any of his past five UFC fights, most notably his recent victory over knockout artist Mark Hunt. Blaydes is now preparing for a June 9 bout with Heavyweight contender Alistair Overeem at UFC 225 in Chicago, Illinois, Blaydes' home state.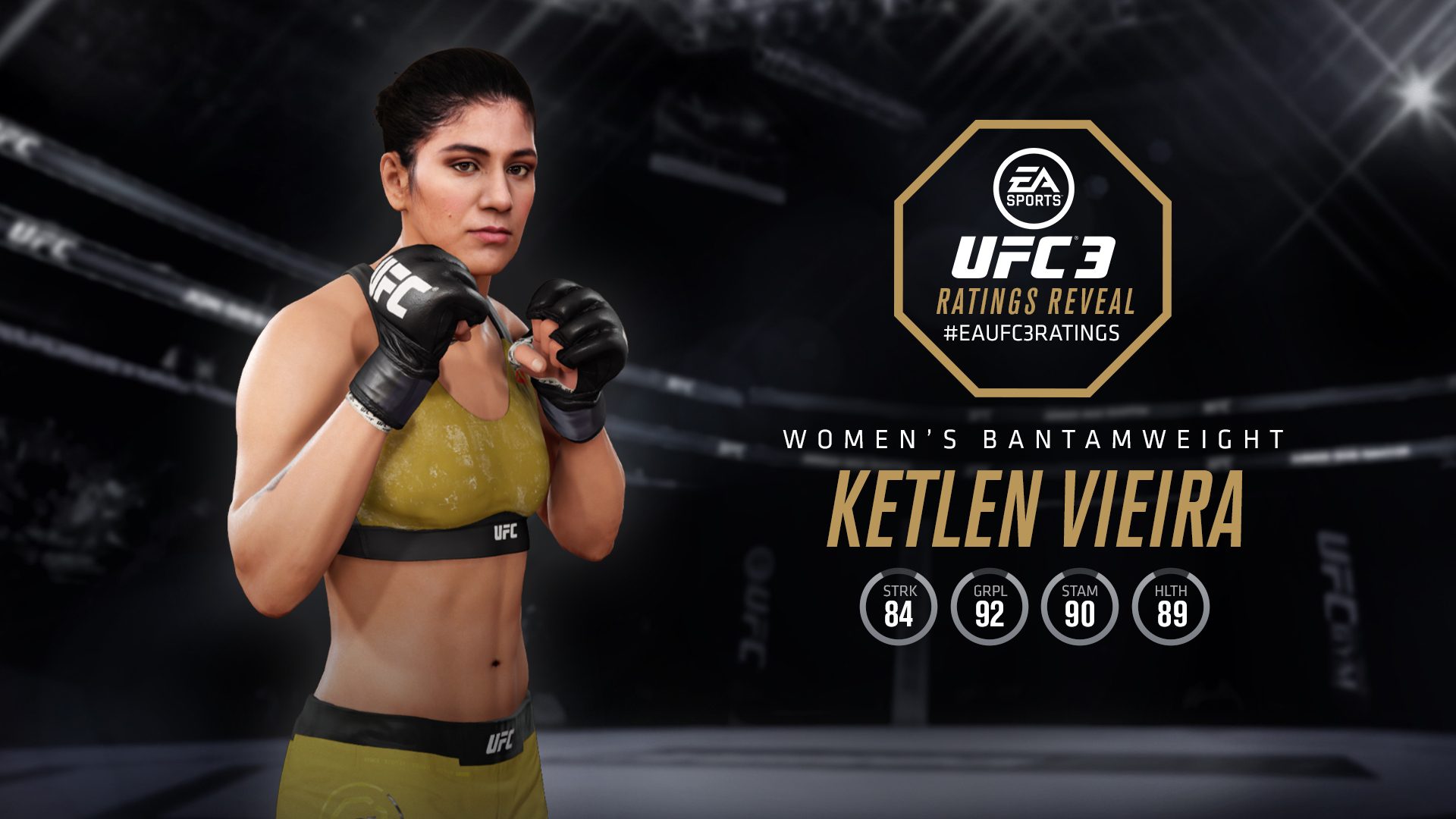 Ketlen Vieira – As a black belt in both Jiu-Jitsu and Judo, Ketlen Vieira has been training her grappling skills from a very young age. A former Brazilian national wrestling champion, Vieira is also capable of stopping her opponents with strikes, having finished two fights by way of TKO. It should come as no surprise that her undefeated 10-0 record is largely made up of submission and decision victories, an indication of Vieira's willingness to outlast her adversaries with sheer pressure. Vieira's most recent victory was a perfect example of this kind of determination, as she battled for a split-decision win over Cat Zingano. Right now, Vieira is one of the biggest threats in the Women's Bantamweight division.
New prospects and gameplay changes are constantly being made in EA SPORTS UFC 3, bringing you a dynamic experience that's always evolving. To find out more, see the Day 120 Gameplay Update.
Follow us on Facebook, Twitter, and Instagram to stay up to date on all things EA SPORTS UFC 3.