Demetrious Johnson is widely regarded as the best pound-for-pound fighter in the UFC. There may not be a fighter in the world who possesses a more complete mixed martial arts game than 'Mighty' and with the UFC 3 Champions Edition pre-order offer, you can get Mighty and a signature move to take out your opponents in UFC 3 Ultimate Team.*
Find out more about Mighty and his fighting career below.
Bio
Nickname: 'DJ' or 'Mighty'
Record: 27-2-1
Fighting Style: Freestyle
Age: 31
Height: 5'3" (160 cm)
Weight: 125 lbs (56 kg)
Birthplace: Madisonville, Kentucky, United States
Weight Class: Flyweight
ABOUT DEMETRIOUS JOHNSON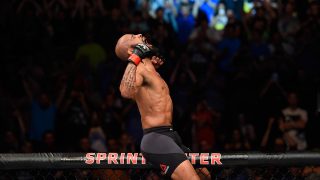 Demetrious Johnson is widely regarded as one of the greatest mixed martial artists in the world. Formerly known as "Mighty Mouse," Johnson is now simply nicknamed "Mighty" since setting the record for consecutive UFC title defenses with his amazing suplex-to-armbar submission win over Flyweight Contender Ray Borg.
Combined with his speed and evasiveness, Johnson's background in freestyle wrestling has helped him establish one of the best ground games in UFC history, winning 11 of his fights by submission. He is the only UFC fighter to record over 10 takedowns in three different fights.
Mighty is on a 14-fight unbeaten streak, the second longest in UFC history. He is also the first and only Flyweight Champion on record, and with his 11 successful title defenses, he surpassed Anderson Silva's record of 10 for the most ever in the UFC. Johnson's 12 wins in title bouts tie him with Georges St. Pierre for the most all-time victories.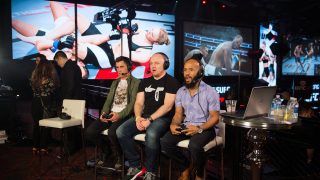 Outside of the Octagon, Mighty is heavily involved with the gaming community. He is an avid streamer and you can watch him play a variety of games on his Twitch channel.
Mighty is one of the best ground-game fighters in UFC history. Pre-order UFC 3 Champions Edition to get Demetrious Johnson and a signature move to take out your opponents in UFC 3 Ultimate Team.*
View the other Champion fighters available for the pre-order offer.
*Conditions and restrictions apply. See https://www.ea.com/games/ufc/ufc-3/game-and-offer-disclaimers for details.