&nbsp
1. Licensed Fighters: In UFC 3 Ultimate Team, you can fight with your favorite fighters like: Conor McGregor, Demetrious Johnson, and Joanna Jedrzejczyk. Apply moves, perks, and boosts to make your Ultimate Team fighter your very own. New licensed fighters will be available in packs and as rewards for completing UUT challenges.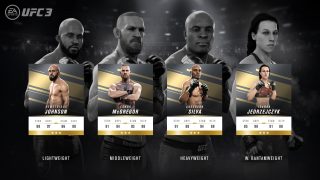 2. Streamlined Customization: Combine your favorite real-world fighters with your created fighter. With more fighter tiers and types available and no weight-class restrictions, you can build your ultimate dream team in the Octagon. The new customization system makes it easier to manage your items and equip your fighters with new moves, perks and boosts.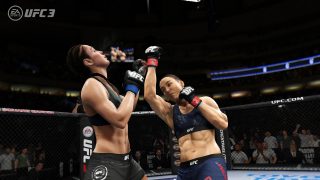 3. Single Player Solo Challenges and Seasonal Campaigns: Earn unique rewards in the newly redesigned Single Player Solo-Challenges. Compete in dynamically updated, scenario-based single player challenges to progress your skills and earn in-game rewards to use in sets and update your fighters. UUT will also include the biggest seasonal campaigns calendar yet, along with weekly programs, and fight centered content. All of this adds up to the most engaging Ultimate Team to date.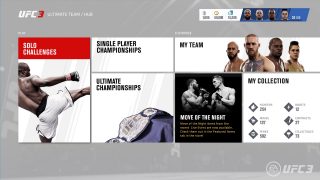 4. Redesigned Sets: UFC Ultimate Team sets take collecting to a new level. Earn and collect your Ultimate Team items to complete thematic Sets where you can craft new cards with higher tiers, exchange tokens for items, and trade unwanted items for coins. Every trade gets you one step closer to being in complete octagon control.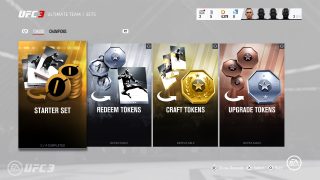 5. Item Design Overhaul: Introducing 4 main fighter stats which you can boost and upgrade through exclusive items available in UUT. This stats include: striking, grappling, stamina, and health. Experiment with different combinations of moves to unlock your fighter's potential and get the most out of your Ultimate Team.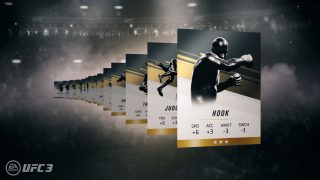 Pre-order Champions Edition to get 3 days early access, your choice of one champion fighter in Ultimate Team, 20 Premium Packs, and much more.
Follow us on Facebook, Twitter and Instagram to stay in the conversation on all things EA SPORTS UFC 3.
Sign-up to receive emails about EA SPORTS UFC and EA products, news, events and promotions.