Madden 18 will have an immersive new story mode called Longshot, joining FIFA's The Journey as single-player, cinematic experiences in EA SPORTS games.
We sit down with Longshot Mode creative director Mike Young and Producer Robin Cowie to get a behind-the-scenes look at how the mode came to life.
How long ago did the team start working on Longshot?
MIKE: Longshot as a concept is four years in the making. I worked with NFL Films to make a short concept video following a quarterback from the regional combine to draft day. This was before FIFA had its success with The Journey. I think the Madden leadership group saw potential when we delivered our opening playable cinematic in Madden 15.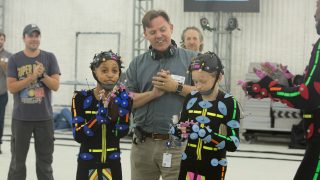 Veteran producer Robin Cowie works with actors of Madden 18 Longshot.


What were some of the areas of focus for a producer on Longshot? How did you prioritize your time?
ROBIN: My primary job was removing blocks to enable the best possible creative experience. The guide for Longshot was to always tell the most cinematic story possible. We wanted to come as close as we could to a playable movie.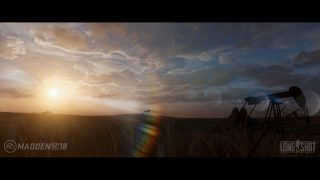 Longshot is a cinematic experience aimed at being similar to playable movie.
You produced The Blair Witch Project. How did producing Longshot compare to a movie?
ROBIN: There were many similarities—we worked with terrifically talented actors, like Mahershala Ali, and Mike was very prepared as a director. The biggest difference for me is the amount of creative control you have during the animation and digital camera parts of production. For most of a film, what is in front of camera accounts for 80 – 90% of the finished content. Only 20 – 30% have digital effects or digital manipulation. Creatively it gives you great freedom but it is a bit of a producing headache.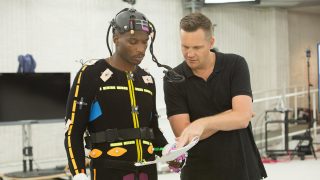 Former NFL receiver Chad Johnson (aka Ochocinco) gets his cues from Mike Young before a shot.


What are the similarities between producing TV and film in a traditional setting and creating new, movie-like experiences for games?
ROBIN: Much of the storytelling language is universal. We have a terrific cinematographer, Brian Murray, who has brought over a lot of the same craft. But then you introduce player agency. Gamers need that hands-on control. This forces us to alter the storyteller's controls.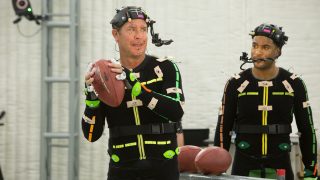 NFL Legend Dan Marino shows off his Hall of Fame form.


An edit, for example, must allow time for the gamer to make a choice while not hanging in an awkward way. It's a unique balance between crafted narrative and agency where the gamer steers the story.
Take us through your day-to-day in developing the mode. What did you and the team focus on?
MIKE: The focus from day one was that we had to tell a good story. The approach was to write it like a movie then go back and rewrite it to make it playable. Choices had to go beyond just allowing people to express their personality. We wanted the decisions to not be black and white.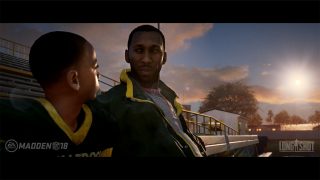 Mahershala Ali's charisma and depth are not lost in the transition to animation.

Even with the art, we wanted meaningful story choices. Longshot has over 40 locations and 40+ characters. Wardrobe changes and the set design tells a story. The posters in Ross' office tell you where he's been. You could read the framed newspaper clippings hung proudly by Devin's father. You feel like there is a bigger world to experience.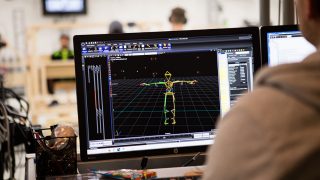 The suit worn by athletes and actors helps developers render their likenesses in-game.

What were your creative inspirations in writing the story for Longshot?
MIKE: Good Will Hunting for their character dynamics: a hero who self-sabotages, dual mentors, the loyal best friend who is wiser than you think. There's also The Assassination of Jesse James for lighting and cinematography. Musically, my inspirations include Jamey Johnson, Chris Stapleton, Eddie Vedder (Into the Wild), and Willie Nelson's cover of Just Breathe.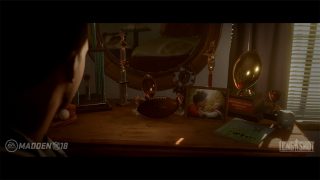 Mike Young: "Choices had to go beyond just allowing people to express their personality. We wanted the decisions to not be black and white."
For video games, there's The Last of Us for the quality of story. The opening scene with the father coming home tired is the most truthful thing I've seen in games. Telltale's The Walking Dead for style of dialogue choice and meaningful conflict. Fight Night Champion for lack of loading and variety to gameplay.