Hello HUT Community,

We're back kicking off the first event of NHL 20, and super excited to get going. Our first event "Classic NHL" is about asking you whether you're an old school or new school NHL gamer. Many of us grew up playing classic 16-Bit NHL and we wanted to find a way to celebrate this while still acknowledging that we have a ton of new players who are in their younger years enjoying the sport through the game. We feel our player selection and items for the event will reflect this well.

Master Items / Vote Pack
We have six Master Items for this event (all rated 90 OVR). Three of them are stars from 90's hockey video games, and three are current NHL stars. These items will be available in both sets and packs.

We're also offering everyone a free 14 day Loan version of them to use for the entirety of the event through our vote pack (located in the store). We're pitting our Classic 16-Bit items against today's superstars. To raise the stakes, whichever group gets more Loan items selected will get an extra synergy point added to both their standard and loan Master Items.

90's Video Game Stars

16-Bit Wayne Gretzky (New York Rangers)
16-Bit Steve Yzerman (Detroit Red Wings)
16-Bit Jeremy Roenick (Chicago Blackhawks)
Current NHL Stars

Mikko Rantanen (Colorado Avalanche)
Carter Hart (Philadelphia Flyers)
Rasmus Dahlin (Buffalo Sabres)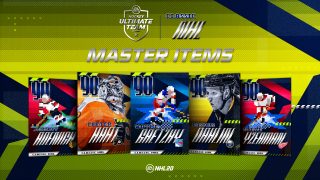 Player Content
Week 1 we will be releasing 12 Classic NHL player items (6 forwards, 4 defencemen, and 2 goalies) from the NHL, NHL Alumni, ECHL, Extraliga, SHL, AHL, and DEL. Some names we can mention are P.K. Subban, Theoren Fleury, and Oskar Steen.

Week 2 will be a similar format with 12 player items (6 forwards, 4 defencemen, and 2 goalies), and the release will include players from NHL, NHL Alumni, Erste Bank, Canadian Hockey League, Liiga, National League, and AllSvenskan.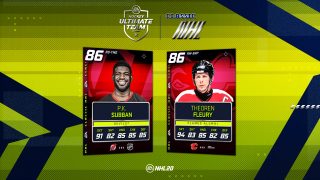 Starter Pack
To help you get started with the event, there will be a Classic NHL Starter Pack available in the store (untradeable, purchasable one time only). This pack will contain a guaranteed Classic NHL player item (with an increased chance of pulling a Master Item), a guaranteed Gold Collectible, a guaranteed NHL 94 Collectible, two NHL 94 inspired jerseys (both home and away), along with 10 more items including at least five Player Items.

Sets + Packs
Starting on September 13, Gold Collectibles can be found in packs (including the standard BASE PACK, and PREMIUM PACK where they previously weren't available) and can be used to complete Event Sets. We will be rotating in some different special offer packs throughout the event as well. There won't be any repeatable event packs to purchase for this event, as all event content will be available through the standard Essential packs.

Event Challenges + Event Collectibles + Jaromir Jagr Choice Pack
Classic NHL will also include a number of Event Challenges, where you can earn NHL 94 Collectibles. You can complete these daily challenges to earn a Jaromir Jagr Choice Pack!

6 Collectibles = Choose 1 of 10 Jaromir Jagr 77 OVR Player Items
11 Collectibles = Choose 1 of 10 Jaromir Jagr 80 OVR Player Items

You will have the following teams to choose your Jagr Player Item from: Penguins, Capitals, Rangers, Panthers, Devils, Flyers, Stars, Bruins, Flames, or HC Kladno.

-Nicholas Shewchuk & Michelle Chen

---
EA SPORTS NHL 20 is available worldwide on September 13. Pre-order the Ultimate Edition and play up to three days early.


Stay in the conversation by following us on Facebook, Twitter, Instagram, YouTube, and EA Forums.

Sign up for the Newsletter today to receive updates on NHL, and other EA news, products, and events, all season long.