Fantasy Hockey – HUT Event Kick Off

Hello HUT Community,
The NHL Season is upon us, and for many hockey fans, it's the most exciting time of the year! We mentioned in our HUT Deep Dive how we wanted to more directly connect HUT with real world hockey results; Fantasy Hockey is our first step in trying to deliver on that promise.

We're hoping this HUT event can help everyone not only enjoy the mode itself more, but also add a ton of excitement to watching games. We want HUT to deliver the most compelling Fantasy Hockey experience available.
How does it work? How are you bringing Fantasy Hockey to HUT?
We wanted to build this event around a concept that is simple to understand, and fun to follow.
So here it is: each Fantasy Hockey Player Item will go up +1 OVR for EVERY single goal the real life player scores in the regular season (for goalies, EVERY win)! So, if the player scores a goal, we will update their Player Item +1 OVR the next working day, and yes, if a player scores a Hat Trick, that item will go up +3 OVR on their update. Only goals that count toward a player's goal total in the regular season will be counted (ie: shootout goals, all-star game will not count). We think this will make tracking the player's progress simple and straightforward for everyone.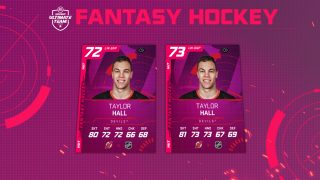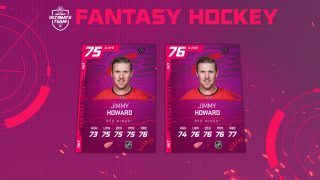 Master Items
For the first time ever in HUT History, we will be unveiling evolving Master Items. For the first week, the Ilya Kovalchuk Master Item will be available (in packs and sets), and for the second week, we will have another special player (to be revealed October 4th). These Master Items will increase in OVR based on the same rules outlined above.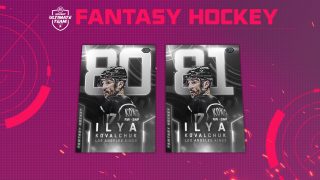 Player Content
Week 1 we will be releasing 12 player items (11 NHL Players, and one from the Finnish Liiga), headlined by Taylor Hall of the New Jersey Devils, and Shea Weber of the Montreal Canadiens.
Week 2 will follow a similar format with 12 player items (11 NHL Players, and one from the Swedish Hockey League).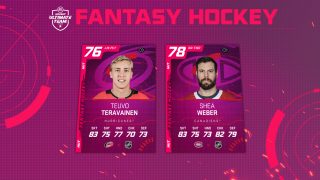 Fantasy Hockey Prospects
In order to add some variety to the overall player group, we'll also be doing a prospects pool with some young up and coming players, including Filip Zadina and Henri Jokiharju! These can be obtained exclusively through the Fantasy Hockey Starter Pack, or the Gold Collectible trade in set.
Starter Pack
Similar to Classic NHL, we will have an untradeable, one time purchase Starter Pack available in the store. This pack will contain a guaranteed Fantasy Hockey Prospect, and a guaranteed Gold Collectible.
Event Challenges
Once again, we will have Daily Challenges added each weekday for you to earn Fantasy Hockey Collectibles. This time, we're ramping up the reward – one Gold Collectible will be available in sets in exchange for Fantasy Hockey Collectibles.
We're eager for NHL Season to officially begin, and we can't wait to see which Fantasy Hockey Players the HUT Community will be cheering on!
-Nicholas Shewchuk & Michelle Chen
---
EA SPORTS NHL 20 is available worldwide on September 13. Pre-order the Ultimate Edition and play up to three days early.


Stay in the conversation by following us on Facebook, Twitter, Instagram, YouTube, and EA Forums..

Sign up for the Newsletter today to receive updates on NHL, and other EA news, products, and events, all season long.