Resistance forces ride into battle in nimble ski speeders, facing off against the First Order's massive armies and hulking AT-M6 walkers. Stormtrooper-turned-hero, Finn, charges into the fight against his former commander, the chromium-clad Captain Phasma. She isn't planning on just leading her soldiers to battle...she plans to lead them to victory.
The assault on Crait has begun in Star Wars™ Battlefront™ II with the launch of The Last Jedi Season, free* for all players.
You'll be able to join in on battles inspired by Star Wars™: The Last Jedi™, including Galactic Assault on Crait and Starfighter Assault above D'Qar. Swooping into Starfighter Assault is a new heroic starfighter: Tallie Lintra's RZ-2 A-wing. Not sure who – or what – that is? Don't worry, you'll know more after seeing Star Wars The Last Jedi. You'll also see Poe Dameron's T-70 X-wing, which is also getting an upgrade in Starfighter Assault with a new ability inspired by the movie.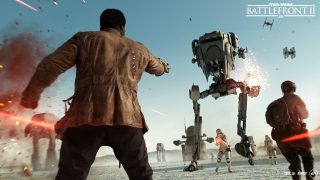 Expect to see Finn and Captain Phasma on the battlefront the next time you join in, too – both will be unlocked without any Credits required for players who log in during the Season. If you haven't already, you'll also be asked to pick a faction once you play the game, which are linked to new, recurring Challenges that reward players on both an individual and a Faction-wide level. Will you throw in with the Resistance, or will you fight to destroy the Resistance and reclaim the Imperial legacy?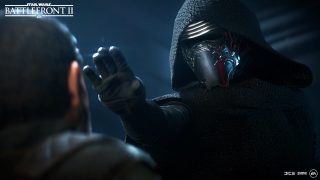 This story – the battle between the First Order and the Resistance's attempts to thwart it – continues in Star Wars™ Battlefront™ II: Resurrection, which follow Commander Iden Versio and the return of fan-favorite, Shriv, during the days of the First Order's rise to power. This content takes place some time after the fall of the Empire, and picks up after the conclusion of the single-player story, so you'll need to finish the campaign to unlock it.
As we've said before, this is only the beginning. Keep your eyes on EA Star Wars™ on Twitter, Facebook, and Instagram for much more of what's coming to Star Wars Battlefront II or join the discussion on the official forums.
*Requires Star Wars™ Battlefront™ II on applicable platform (sold separately), all game updates, internet connection, EA account, and, for console players, Xbox Live Gold or PlayStation Plus membership (each sold separately).