&nbsp
The UFC 3 Icon Edition and Update are set to launch on July 3, adding five of the most recognizable names in UFC history as playable characters. Tito Ortiz, Matt Serra, Kimbo Slice, Mirko Cro Cop, and Wanderlei Silva will be added to the roster, available to everyone who owns UFC 3. Read about the iconic fighters and their ratings below, and get ready to recreate (or rewrite) classic UFC moments. Ratings are based on specific years from when the Icons were at their prime, indicated beside their names.
Tito Ortiz (2006)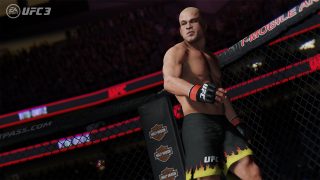 90 Striking
95 Grappling
96 Stamina
92 Health
Former UFC Light Heavyweight champion Tito Ortiz makes his way to the cage in the UFC 3 Icon Edition and Update, boasting past notable wins over the likes of Forrest Griffin, Vitor Belfort, and fellow UFC 3 Icon Wanderlei Silva. The "Huntington Beach Bad Boy" made his MMA debut at UFC 13 in 1997, which was only the beginning in a long and storied career highlighted most recently by a 2017 win over Chael Sonnen. In UFC 3, you'll have the perfect chance to settle the score between Tito and Dana White, a feud that continues to this day.
Matt Serra (2007)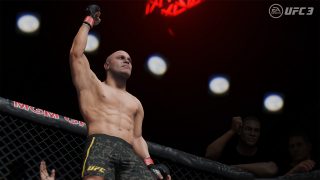 88 Striking
92 Grappling
90 Stamina
90 Health
Matt Serra's 2007 KO victory over Georges St-Pierre is arguably the most shocking upset in UFC history, as the heavily-favored St-Pierre seemed unstoppable at the time. After capturing the Welterweight belt with this stunning performance Serra would go on to lose the rematch to St-Pierre, yet his storied career still earned him a place in the UFC Hall-of-Fame in 2018. A Brazilian Jiu-Jitsu practitioner with a scrappy style, Serra will be ready for a trilogy match with St-Pierre in the UFC 3 Icon Edition and Update.
Kimbo Slice (2009)
91 Striking
86 Grappling
85 Stamina
93 Health
Street-brawling sensation Kimbo Slice made his way to the UFC in 2009, earning a spot on The Ultimate Fighter after internet videos showcased his striking power in unsanctioned backyard fights. The hype surrounding Kimbo was immense, and while his MMA career never quite lived up to expectation, you'll be able to rewrite his story with Kimbo's striking and health stats in this Roster Update.
Mirko Cro Cop (2010)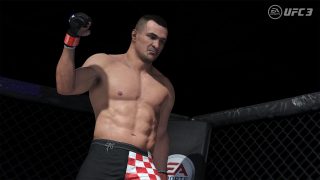 94 Striking
89 Grappling
90 Stamina
93 Health
One of the most devastating kickboxers to ever make the jump over to MMA, Mirko Cro Cop is an incredibly iconic fighter whose career began in 2001. Known for having a brutal left head kick and unbreakable toughness, Cro Cop's striking power in UFC 3 is based on his longest stint in the promotion dating back to 2010. He'll be available when history is at your fingertips in the Icon Edition.
Wanderlei Silva (2010)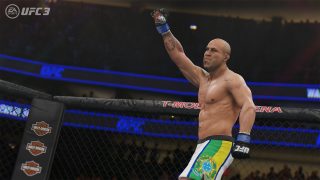 94 Striking
89 Grappling
93 Stamina
96 Health
The vicious Muay Thai style Wanderlei Silva utilized throughout his career has earned him a place in the UFC 3 Icon Edition and Update, which gives you the chance to recreate a number of classic fights he was involved in. This powerful competitor can be a handful against any opponent in UFC 3, as Wanderlei presents numerous challenges from both the clinch and at range. Possessing the kind of chin that got him through so many wars, Wanderlei's 96 health rating will make him a tough opponent to stop in UFC 3.

The UFC 3 Icon Edition is available digitally July 3 to 17 for Xbox One and PS4.

Stay connected with UFC 3 on Facebook, Twitter, and Instagram.

Sign up today to receive the latest UFC 3 news, updates, behind-the-scenes content, exclusive offers, and more (including other EA news, products, events, and promotions) by email.