&nbsp
UFC 225 is the first pay-per-view event in Chicago, Illinois, where the UFC is hosting a stacked card. In the co-main event, newly-minted Welterweight contender Rafael dos Anjos takes on the infamous Colby Covington in a battle for the interim 170-pound championship of the world. The winner of this 5-round contest will be guaranteed a future title shot against current Welterweight king Tyron Woodley, as a queue of challengers begins to form in the division. UFC 225 is headlined by a rematch, as 185-pound champ Robert Whittaker meets freak athlete Yoel Romero. After losing the first contest to Whittaker back in July of 2017, Romero will be looking for revenge in his second chance at UFC gold. Watch the sim and see who takes home the belts!
Rafael dos Anjos vs. Colby Covington
Here are the EA SPORTS UFC 3 ratings for the co-main event fighters of UFC 225:
Rafael dos Anjos Overall Ratings:
Striking – 89
Grappling – 90
Stamina – 91
Health – 90
Colby Covington Overall Ratings:
Striking – 87
Grappling – 92
Stamina – 91
Health – 90
EA SPORTS was excited to simulate these fights because of the great stories behind each competitor. When Rafael dos Anjos (RDA) moved up to Welterweight from the 155-pound class, there were questions surrounding the former king of the Lightweight division. Winning all three of his last bouts against Welterweight opponents, RDA has solidified himself as a dangerous 170-pound contender. Colby Covington's path to an interim title shot doesn't sound anything like that. Headlining the main event of a card held in Maia's own Brazil, Covington had the last word in his Octagon interview, and let's just say his speech did not go over well with the crowd. Chased from the arena, Covington will now have to answer to one of Brazil's greatest.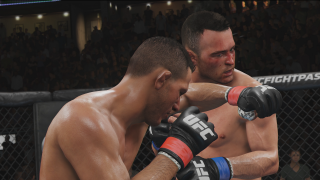 At the start of the sim, Covington tries to set an aggressive tone with a big overhand right, followed up by a takedown attempt that RDA easily stops. RDA responds to the forward-moving Covington with a damaging head kick as the first round of action comes to a close. Building on the early momentum, RDA comes out for round 2 and closes the distance, avoiding more flashy shots from Covington, while landing his own close-quarters counter strikes.
As the fight progresses, Covington fails to adapt to RDA's effective counter-striking, taking heavy damage as he swings wildly at his opponent. Round 4 is when RDA truly begins to take over, dropping Covington with a left hand, nearly earning him the finish. The levee breaks in round 5, when someone is KO'd and an interim Welterweight champ is declared. See who is victorious and watch the sim.
Robert Whittaker vs. Yoel Romero
Here are the EA SPORTS UFC 3 ratings for the main event fighters of UFC 225:
Robert Whittaker Overall Ratings:
Striking – 92
Grappling – 90
Stamina – 91
Health – 91
Yoel Romero Overall Ratings:
Striking – 91
Grappling – 93
Stamina – 88
Health – 91
The first fight between Robert Whittaker and Yoel Romero presented each challenger with the toughest tests of their respective careers. Whittaker had run through everyone he faced in the Middleweight division, totaling a streak of six wins before the interim championship fight with Romero. Romero had confidence of his own, having won all eight of his previous UFC contests, thanks to his incredible athleticism, Olympic-level wrestling, and sheer power. It was an intriguing matchup, and an even better fight, as Whittaker would go on for a unanimous decision victory over Romero. Now, the two men will square off in a rematch for the undisputed Middleweight title of the world.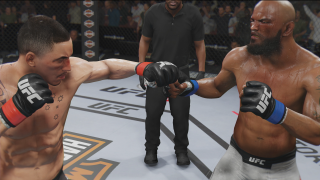 As the first round gets underway, Romero lands a flying knee that catches Whittaker's attention and forces him to cover his head more than his body. Romero takes advantage of this opening by landing a strong kick to the body of Whittaker, however, Whittaker responds with a front kick to the face of Romero to close out round 1. While Whittaker looks to pick up where he left off, Romero slows the pace of the contest in round 2 and uses the wrestling that earned him an Olympic silver medal to take Whittaker down.
In round 3, Whittaker finds his timing with strikes against Romero and begins to turn the tide, as his damaging strikes continue to hurt Romero through round 4. By round 5, it looks as if Whittaker will stop Romero, however Romero responds with a heavy left hand that wobbles the champ. The contest goes to the judges' scorecards, and after a nervous wait, the winner is declared. Watch the sim to find out who becomes Middleweight champ!
How do you see the fight playing out? Share your UFC 224 predictions on Facebook, Twitter, and Instagram.
EA SPORTS UFC 3 is now available worldwide. Get your copy today. Check out these Tips and Tricks to up your game.