&nbsp
When the MMA world converges in L.A. on August 4 for UFC 227, the topic on everybody's minds is going to be redemption. The co-main and main event bouts feature spectacular rematches, as Demetrious "Mighty Mouse" Johnson once again looks to defend his belt against Olympic gold medalist Henry Cejudo, while T.J. Dillashaw takes on Cody "No Love" Garbrandt for a second time. Play the fights first in UFC 3, and tell us who you see taking home the gold, or who you think gets revenge.
A Second Chance

Demetrious Johnson Stats: Striking 94, Grappling 93, Stamina 96, Health 91
Henry Cejudo Stats: Striking 90, Grappling 91, Stamina 91, Health 88

The first fight between Icon Edition Cover Athlete Demetrious Johnson and Henry Cejudo was phenomenal, particularly the performance from Mighty Mouse. As the only Flyweight champion in UFC history, Johnson has run through all competitors vying for his crown, and his first fight with Cejudo at UFC 197 is one of his most memorable defenses. Heading into the contest, Cejudo was considered the best Flyweight challenger for the champion, thanks to an undefeated record and the Olympic gold medal he won at the 2008 Olympics.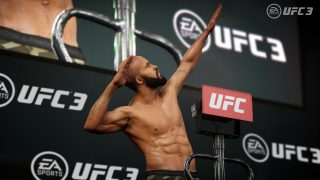 Despite the long list of credentials that solidified Cejudo as the number one contender, he was unable to claim the Flyweight belt, as Mighty Mouse matched him no matter where the fight went. Cejudo managed to land an early takedown, which Mighty Mouse responded to by kicking Cejudo right off of him. As Cejudo continued to try and close the distance with grappling, Mighty Mouse countered with his own close-range strikes, landing powerful knees to Cejudo's midsection. As Cejudo crumpled towards the canvas, Mighty Mouse pounced and finished the fight in the first round.

There's no doubt that Cejudo will be even hungrier this time around at UFC 227, as his pedigree is more than worthy of coveted top contender status. As you can tell by their stats listed above, this is going to be a close contest, so head into UFC 3 and play these rematches as you get ready for UFC 227.

Grudge Match

T.J. Dillashaw Stats: Striking 94, Grappling 90, Stamina 92, Health 90
Cody Garbrandt Stats: Striking 94, Grappling 89, Stamina 91, Health 90

When T.J. Dillashaw and Cody Garbrandt entered the octagon at UFC 217 it was electric, with back-and-forth action between two opponents who can't stand each other. These two have a long history, as they used to train together at the same gym before Dillashaw parted ways with that team. Their first fight in the Octagon was proof their relationship had turned sour, as they traded strikes in an intense round 1. Then-champion Garbrandt nearly got the finish with a powerful right hook, until Dillashaw was saved by the bell.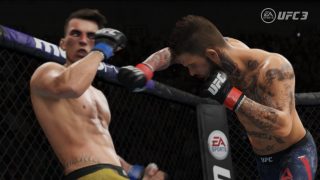 In round 2, T.J. found the finish after landing a high kick and finally a right hook of his own, sending Cody to the canvas. After unleashing some ground and pound to secure the victory, Dillashaw met Garbrandt face to face with a triumphant roar, and with that the belt changed hands. Now they'll run it back in a battle between two of the most powerful 135-pound fighters in the world. Garbrandt will be looking to reclaim his belt, while T.J. is hoping to bring this rivalry to an end with a second win over his rival. You can see above that their stats are virtually identical, so jump in and play the contest in UFC 3 before the big rematch at UFC 227.

Stay up to speed with UFC 3 on Facebook, Twitter, and Instagram.

Sign up today to receive the latest UFC 3 news, updates, behind-the-scenes content, exclusive offers, and more (including other EA news, products, events, and promotions) by email.