Many refer to Anderson Silva as the greatest striker in UFC history. His knockout power and striking accuracy made him the most dominant Middleweight Champion ever. With the UFC 3 Champions Edition pre-order offer, you can get Anderson Silva and a signature move to take out your opponents in UFC 3 Ultimate Team.*
Find out more about Silva and his fighting career below.
Bio
Nickname: The Spider
Record: 34-8-0, 1NC
Style: Muay Thai
Age: 42
Height: 6'2" (187 cm)
Weight: 185 lbs (84 kg)
Birthplace: Curitiba, Brazil
ABOUT ANDERSON SILVA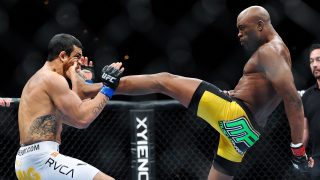 Anderson Silva set many UFC records throughout his career. Whenever 'The Spider' fought, it was always a must-watch event as Silva has the second-most post-fight bonus awards in UFC history (13). The former UFC Middleweight Champion has the longest title streak on record, defending it for 2,457 days.
During his defense of the title, Silva set the record for most UFC title defenses with 10, which stood as the record until Demetrious Johnson recently broke it. He also held a 16-fight win streak during this time, which is the longest win streak in UFC history.
Anderson Silva's background in Muay Thai helped make him one of MMA's deadliest strikers. His counter-striking precision allowed him to frequently deliver highlight-reel stoppages, winning 22 of his bouts via knockout. Silva also ranks first in significant strike accuracy (67.8%).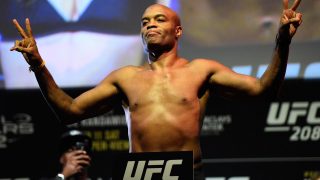 While his standup game is among the best of all time, Silva was able to hold his own on the ground, submitting some well-known grapplers, including Dan Henderson, during his career.
Outside the Octagon, Silva has ventured into the acting industry. He's been in six films and is also a host on reality TV show, the Ultimate Beastmaster.
One of the best strikers in UFC history is a UFC 3 Champion Athlete. Pre-order UFC 3 Champions Edition to get Anderson Silva and a signature move to take out your opponents in UFC 3 Ultimate Team.*
View the other Champion fighters available for the pre-order offer.
*Conditions and restrictions apply. See https://www.ea.com/games/ufc/ufc-3/game-and-offer-disclaimers for details.